Deputy Minister of Internal Affairs
Friday, December 23, 2022 09:25
Communist Review - Ethical and cultural values ​​of religion constitute an integral part of Vietnam's cultural value system, a spiritual foundation to help believers be socially responsible, contributing considerably to the cause of national construction and defense.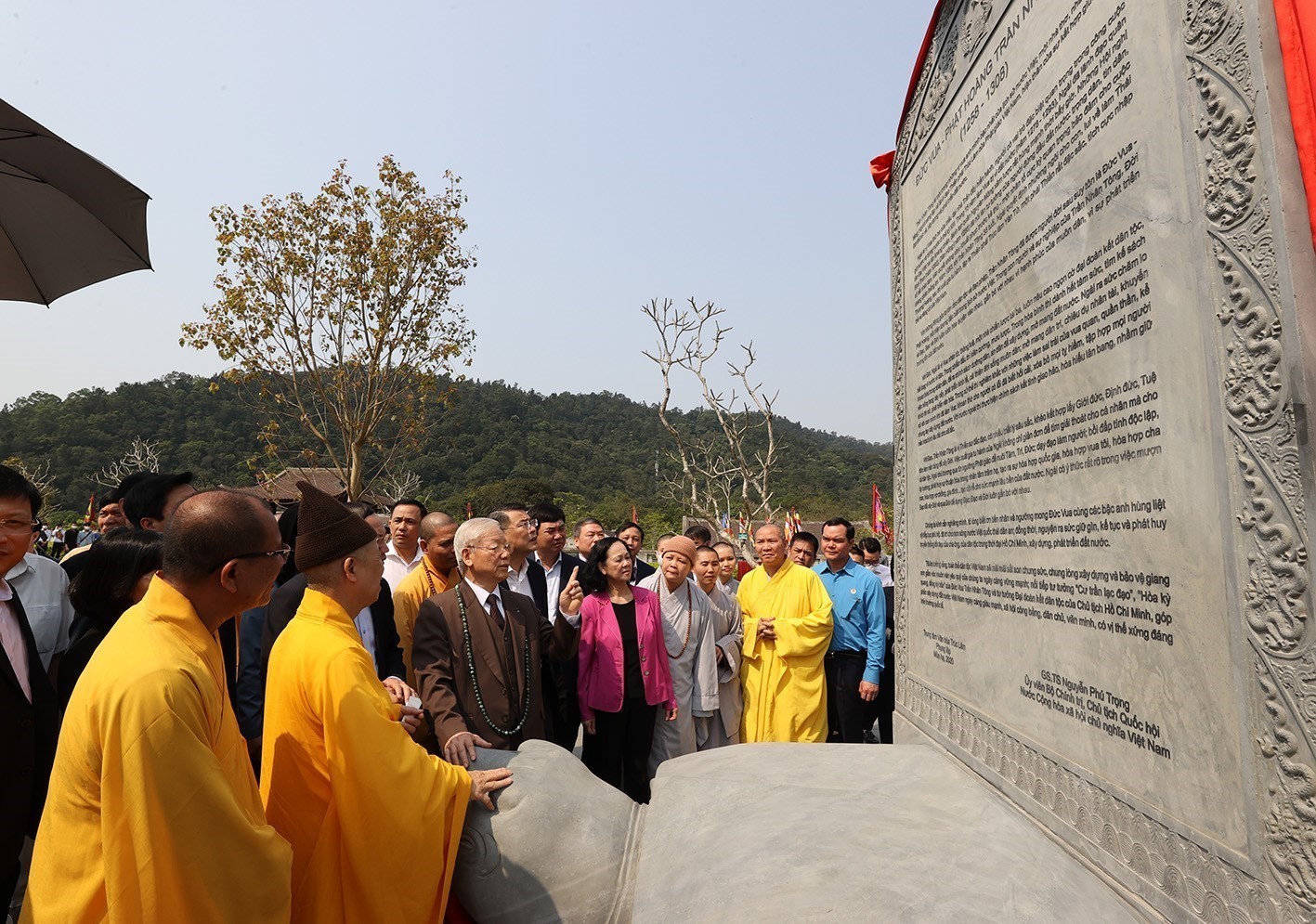 Religion is an integral part of the culture. When it comes to the culture of a nation or region, it is impossible not to mention its constituent part which is religion. The cultural value of religion is manifested in beliefs, practices, ethical principles and values, and tangible and intangible heritages. The process of forming and developing tenets, philosophies, principles, and canon laws gradually affects the perception, thought, psychology, and lifestyle not only of believers but also of different aspects of society. The cultural value of religion has a lasting and intense vitality, even in societies of high modernity.
Vietnam is a multi-religious country. As of December 2021, the State of Vietnam has recognized and registered 41 organizations of 16 religions with believers accounting for 27% of the country's population, over 58,000 dignitaries and about 148 thousand religious officers, and over 29,000 religious establishments across the country. Vietnam is in the process of renovation and international integration with an attempt to build an advanced culture imbued with national identity and pursuenational independence and socialism goal.
The Communist Party of Vietnam states: "Culture is the spiritual foundation of society. It is both a goal and an endogenous force, an important driving force for national growth". At the National Cultural Conference on implementing the Resolution of the 13th Party Congress on November 24, 2021, General Secretary Nguyen Phu Trong was deeply convinced of the power of culture said by Ho Chi Minh: "Culture illuminates the road of the nation ". Therefore, it is crucial to arouse and promote the good values ​​of religions - an integral part of the culture - to create a driving force for national construction and defense.
Ethical and cultural values, and resources of religion in Vietnam
Religion penetrated and formed in Vietnam since its very early days, and was welcomed by the people thanks to its human values that are appropriate to the morals and traditional values of the Vietnamese people. Throughout the nation's history, religion has always been closely associated with the nation, the most obvious manifestation of which is moral and cultural values.
With the tradition of "protecting the country, keeping the people safe", the majority of religious believers accompany the nation during the process of national construction and development. Buddhism has been present in Vietnam for more than 2,000 years with the motto "Buddha Dharma is inseparable from the world" which has promoted Buddhist cultural values ​​in Vietnamese society through the ages. Buddhist ethics and culture have deepened and enriched the traditional values ​​of Vietnamese culture, such as the concept of compassion, equanimity, selflessness, tolerance, six harmonies in the sangha community, and the law of cause and effect. Buddhism has pointed out that the 3 poisons of greed, hatred, and delusion considered to be the root cause of all human suffering and social inequality give rise to wrong views, disputes, and evil; Buddhism upholds the law of cause and effect, karmic retribution, advise believers to practice the "Five Precepts", "Noble Eightfold Path", enhance responsibility towards individuals, communities and the whole society, motivate people to change their behavior.
Good cultural and ethical values ​​in Catholic and Protestant tenets are expressed in the 10 commandments, of which 3 are about God and 7 teachings are about ethical admonitions that have contributed to fostering moral and cultural values of individuals as well as the community. Catholic philosophy is very broad but is gathered in four words with two pairs of categories "Love God, Love people". That means love and compassion for those in difficult circumstances in society. The guideline of Hoa-Hao Buddhism Doctrine is "Study Buddhism to improve yourselves" and comply with the Four Debts of Gratitude at home (Thankfulness to our Ancestors and Parents, Thankfulness to our Country, Thankfulness to the Three Treasures: Buddha, Buddhist Law, and Sangha, Thankfulness to our fellow-countrymen and mankind). Hoa-Hao Buddhism is Buddhism for the Dharma and the common people. It focuses on spreading the teachings and practicing social work, charity, and almsgiving, which is very consistent with the patriotic tradition and national culture of Vietnam. Cao Dai religion, like other religions, takes love as the foundation, takes humanity as the motto, takes service for sentient beings as action, takes the salvation of spirits as the end, strives for peace and social justice to safeguard the people and the Fatherland, which is similar to the goal aimed by the Party, State and the whole society as the Censor cardinal Cao Trieu Phat called for religious followers to unite with the Government to combat against the French colonialists: "There are many religious altars, but there is only one altar to the Fatherland".
All religions themselves contain humanistic and ethical values, orienting mankind toward altruism, love, and charity. Religion advises followers to forbid killing to avoid death, violence, conflict, and war; It teaches believers not to steal nor tell lies. It educates them to adopt upright behavior in doing business, and avoid greed for possession of other's property to minimize the risk of social conflicts... When an individual/believer can avoid bad things and practice good things, he will become a good person and the whole community will become better. That creates the sustainability of the national cultural and moral value system.
Religions remind people of the virtue of "filial piety" and consider it as the most important virtue in educating believers, which is in line with Vietnamese national traditions in building family culture, the cell of society. Filial piety is a positive and practical value that encourages people to care for each other, promote human values, and spread love. Religions uphold family values. Thanks to religious beliefs, family members pay more attention to each other, thus contributing to eradicating social evils. Those values of religions have fostered traditional cultural and ethical values ​​of Vietnamese families. Religious standards contribute significantly to maintaining the code of conduct of Vietnamese society as well as the ethical and cultural values of society.
Besides the profound philosophical system, religions also contribute to the national culture through works such as architecture, painting, and sculpture. Buddhism has created unique works of art, such as pagodas, temples, and statues of Vietnam. The integration of Western styles and architecture of Catholics and Muslims have contributed to the interference and integration of national cultures. Along with the national cultural history, the Bible, Buddhist scriptures, and religious teachings constitute a treasure of culture and history to be exploited; The establishment and flourishing of religious newspapers have contributed to spreading religious values ​​and national cultural values, making religious culture closer and more familiar to Vietnamese culture and vice versa, Vietnamese culture is expressed in special religious rituals.
The practice of religious rituals has built and united the community of believers. Rituals and practices of religious beliefs are a way to bring people closer together and cultural, religious, and ethnic values ​​are exchanged and transmitted more frequently. Every religion teaches people about the good and the morality of being human, to be responsible for themselves and their families, and the community. The practice of religious rituals creates social solidarity and consensus. Positive religious beliefs affect the behavior and conduct of each believer and the religious community. Close ties between people who share the same belief always create a sustainable vitality and spillover to the community, a long-lasting social relationship, consensus, and social progress.
Religions have proved their moral and cultural values ​​in their philosophies and teachings by successfully implementing movements launched by ministries, branches, and localities, such as "All people unite to build a civilized life" in residential areas, "Building a virtuous and exemplary pagoda", "Building a civilized country, an exemplary Catholic family", or movements to fight crime, drugs trading, social evils, build a new lifestyle in organizing marriage and funeral rituals, festivals, establish and implement conventions of villages and residential areas... In the movement to build new rural areas and civilized cities in localities such as Ninh Binh, Nam Dinh, Ha Nam, Ha Tinh, Dong Nai, Ca Mau, etc., religious believers have voluntarily funded hundreds of billions of dong and hundreds of thousands of working days, donated land and materials for construction of rural roads, schools, amusement parks, cultural and sports centers and so forth, contributing to the construction of an increasingly spacious and clean homeland. Many free classes for underprivileged children and kindergartens opened by dignitaries, monks, and religious organizations have been making practical contributions to the cause of education and are increasingly trusted by society. Religious followers are running effectively health care centers, thus helping the Government improve the quality of public health. Social charity activities are carried out by a large number of dignitaries, monks, and religious followers under various forms, such as funding, opening schools and free classes for underprivileged children, building social protection centers, granting scholarships, providing health care services, helping disaster victims, donating blood, giving helping hand to vulnerable people(1); providing social protection for victims of the COVID-19 epidemic(2). All these actions have shown the altruistic nature of Vietnamese people "The intact leaves protect the tattered ones".
Vietnam has a big number of dignitaries and religious officials who are intellectuals. They have influence and expertise in fields related to social life, such as education, culture, health, and foreign languages... This is a force that has made a significant contribution to socio-cultural development, new rural movements, and grassroots cultural development, especially in rural, remote, and isolated areas. By practicing religion, dignitaries always advise followers to obey the policies and laws of the State, strengthen national unity and religious solidarity, and involve responsibly in socio-economic life. Religious beliefs, commandments, and norms positively affect economic actors as well as their goals, and behaviors. Economic growth and environmental preservation go hand in hand. Economic growth is associated with moral virtue and social responsibility. This is the role of religion in forming national culture and developing the country.
Religion always advocates peace and harmony and condemns injustices and bad things, so the moral values of religion always aim to maintain security and social order. Religious communities are highly self-governing and responsible organizations with an attempt to maintain security, eliminate social backwardness and prevent juvenile delinquency.
The views of President Ho Chi Minh and the Communist Party of Vietnam on promoting moral and cultural values and religious resources
President Ho Chi Minh's views on culture are expressed through respect for human rights, including freedom of belief and religion. He uses humanistic values ​​of religion to unite religious compatriots and encourage them to promote positive values of religion ​​in keeping social morality. He highly appreciates the fraternity and sacrifice of the founders of religions when integrating the values ​​of truth, goodness, and beauty of society into religious tenets. They all attempt to pursue happiness for the community.
The Party has inherited and developed President Ho Chi Minh's thoughts on promoting the good moral and cultural values ​​of religions and used them as a common point to unite religious communities when affirming: Religion and belief are the spiritual needs of a proportion of people. Many ethical values in religion are appropriate to a new society. This is also the policy of religious renovation during the Doi Moi stipulated in the Party's resolutions and documents, such as Resolution No. 03-NQ. /TW dated July 16, 1998, of the 5th Central Conference (8th term) on "building an advanced Vietnamese culture imbued with national identity". The document stated: "Encouraging ideas of justice, fraternity, and goodwill... in religion, and eradicating superstitions through propaganda and education; fighting against abuse of religion and belief as a tool of political conspiracies"(3). Resolution No. 25/NQ-TW, dated March 12, 2003, of the 7th Plenum of the 9th Central Committee on "religious activities" reaffirmed the need to "Preserve and foster the positive values ​​of ancestor worship, honor the sacrifice and devotion of heroes with meritorious services to the Fatherland and community. Religious discrimination and abuse of religion and beliefs as a tool of practicing superstitions are strictly prohibited"(4). The 12th Party Congress pointed out: "It is essential to promoe positive values of culture and religion"(5). The 13th Congress continued to affirm the value of religious culture when declaring that " it is crucial to foster good cultural and ethical values and religious resources for the cause of national development"(6).
Therefore, both President Ho Chi Minh's thoughts and the Party's policies confirm the importance of religion and consider the cultural value and good morality of religion as an important driving force for national construction and defense. This recognition by State policies has created favorable conditions for the religion to promote its good philosophy and teachings in social life and national building and defense.
Solutions
Firstly, grasping the Party's guidelines on promoting moral and cultural values, and religious resources.
To arouse and promote the moral and cultural values ​​of religion in the cause of national construction and defense, it is necessary to thoroughly grasp and widely disseminate the Party's views on religion, especially the spirit of the 13th Party Congress. In addition, the authorities at all levels must well perform four tasks related to religious activities: 1- Mobilizing religious organizations, dignitaries, and followers to live a "good religious life" and actively contribute to the construction and defense of the Fatherland; 2- Ensuring that religious establishments comply with the law and regulations recognized by the State; 3- Fostering the cultural and ethical values, and resources of religions for national development; 4- Severely punish abusers of religion to destroy the Party, State, and the socialist regime, and to separate religious communities and destroy the great national unity bloc. Reinforce propaganda and mobilize dignitaries and believers to respect the Party's guidelines and the State's policies and laws on religion, and strengthen national unity for national construction and defense.
To effectively complete these tasks, it is vital to adapt religion to current circumstances. To promote the involvement of religion in solving social-ethical problems and maintain national cultural identity, it is necessary to adopt clear mechanisms and policies and consider religion as a part of the culture. Although there exist policies, these policies should be institutionalized to create a legal corridor for religion to promote its values in social life. Vietnam advocates that religion and belief are the spiritual needs of a part of people and religious ethics are suitable for the construction of a new society. For national sustainable growth, due attention should be paid to the contribution of religion in spiritual life with an attempt to narrow the cultural and spiritual gap between different cultural backgrounds. Respecting and promoting religion is to promote religion to develop good moral and cultural values to accompany the nation.
Secondly, respect and guarantee the people's right to freedom of belief and religion.
The consistent and cross-cutting viewpoint of our Party is to respect and guarantee the people's right to freedom of belief and religion and affirm that it is a human right. That right is only concretized in a peaceful and developed country. Only in that environment can a religious organization ensure the interests of its followers, believers can freely express their religious beliefs, and the moral and cultural values of religion can be fostered. To maintain and develop that environment, it is urgent to ensure the people's right to freedom of belief and religion. That is also the foundation for religious believers to feel secure, trust in the leadership of the Party and make efforts to maintain good moral and cultural values ​​of religion during the cause of national construction.
Along with solving the needs of religious communities, more particular consideration should be given to fighting against religious abuse for personal gain and the destruction of the great national unity bloc. Establish a close bond between authorities and religious organizations to promptly handle inadequacies related to religion. Encourage dignitaries and believers to preserve and promote the nation's good cultural values ​​in religious activities and to enrich national culture with good values of religion.
Thirdly, mobilize dignitaries and religious believers to contribute resources to the national construction and defense.
In the current period, Vietnamese culture has been changing and running the risk of losing its identity. Therefore, arousing and promoting the good cultural values ​​of religion in preserving and promoting the Vietnamese national cultural identity is an important task not only of the Party, State, and religious organizations but also the responsibility of the whole society. Therefore, ministries, branches, provincial Party Committees, Fatherland Front, and socio-political organizations need to reinforce propaganda and mobilize dignitaries and religious followers to complete this crucial political task. Mobilize religious communities to serve the country, preserve national traditions, and comply with the Constitution, laws and follow development trends of the time, combat a toxic culture that harms people's lives. Raise awareness among dignitaries and believers about the Party and State's policies on culture, and religious ethics, and raise the responsibility of individuals and religious organizations in promoting the value of religion. cultural values, and religious ethics to build and develop the country and defend the Fatherland under the guiding spirit of General Secretary Nguyen Phu Trong at the National Cultural Conference on November 24, 2021: "Foster cultural values, promote the strength and the spirit of dedication of all Vietnamese people, create endogenous resources and breakthrough to successfully achieve national goals from 2025 to 2030, with a vision to 2045 set out by the 13th Party Congress".
Mobilize dignitaries and followers to promote patriotic traditions, solidarity, attachment, companionship, and sharing of responsibilities with society in the spirit of "living good religious life"; actively involve in patriotic emulation campaigns launched by the Fatherland Front and other agencies, maintain a socio-religious harmony, join hands with the government at all levels and the people to build the country. At the same time, maximize the strengths of religions and beliefs in the fields of health, culture, education, vocational training, social security, environmental protection, and spiritual tourism... Fight against conspiracies causing ethnic and religious conflicts, harming the great national unity bloc and the country's renovation performances.
The Vietnamese Party and State have advocated the socialization of education, healthcare, charity, and humanitarian activities. This is a consistent and long-term policy, in which religious organizations play a core role. Accordingly, ministries, branches, and localities should not only effectively implement the guidelines and policies of the Party and State but also create good conditions and encourage the involvement of religious communities under the provisions of the law and religious regulations. Promptly reward exemplary individuals and religious organizations who achieve excellent performances in implementing patriotic emulation movements and building cultural life in residential areas, fighting against social evils, and promoting civilized lifestyles from the grassroots.
The moral and cultural values ​​of religion exert a huge impact on social life. Arousing religious resources and promoting those values ​​not only help religious compatriots protect their beliefs and set personal goals for many people, but also contribute to enriching the nation's morality and culture.
---------------
(1) 500 charity clinics, 800 social protection establishments, 12 vocational training institutions, 280 preschools, 1,000 independent preschools opened by religious individuals, there are about 125,594 children go to school (10 schools meet the national standard, accounting for 3.7%) - Source: Government Committee for Religious Affairs
(2) Maintaining activities such as "Rice ATM", "Love kitchen", "Zero-VND stall"; funding thousands of tons of food, essential necessities and hundreds of thousands of free meals worth trillions of VND to people in difficulty, people in quarantined areas, regardless of their religion; Fundraising over 20 billion VND for the "Vaccine Fund for COVID-19 Prevention and Control"; over 3,000 volunteers of different religions worked as frontline workers during the epidemic; donating 500 million dong to overseas Vietnamese and Buddhist monks in Cambodia, 500 million dong to overseas Vietnamese and Buddhist monks in Laos; donating 133 ventilators and 50 oxygen generators worth nearly 14 billion VND to the Government and people of India; donating 2,000 COVID-19 test kits worth 600 million VND to the Government and people of Nepal, Caritas Archdiocese of Ho Chi Minh City has addressed an open letter to Catholic communities to donate 4,000,000 medical masks to the Apostolic Vicariate of Phnom Penh (Cambodia), Source: Government Committee for Religious Affairs.
(3) Documents of the 5th Conference of the Central Committee, term VIII, National Political Publishing House, Hanoi, 1998, p. 67
(4) Documents of the 7th Central Conference, Session IX, National Political Publishing House, Hanoi, 2003, p. 49
(5) Documents of the 12th National Congress, Office of the Party Central Committee, Hanoi, 2016, p. 128
(6) Documents of the 13th National Congress, National Political Publishing House, Hanoi, 2021, vol. I, p. 171
This article was published in the Communist Review No. 991 (June 2022)