Former Vice-Chairman of the National Assembly's Social Affairs Committee
Tuesday, August 16, 2022 10:20
Communist Review - Sustainable poverty reduction is one of the major undertakings and tasks of the Party and the State of Vietnam, demonstrating the good nature of the socialist regime. Over the years, along with improving the salary and wage regime and raising incomes for workers, the Party and the State of Vietnam have always paid special attention to ensuring social security and reducing poverty for the people, including ethnic households and mountainous areas.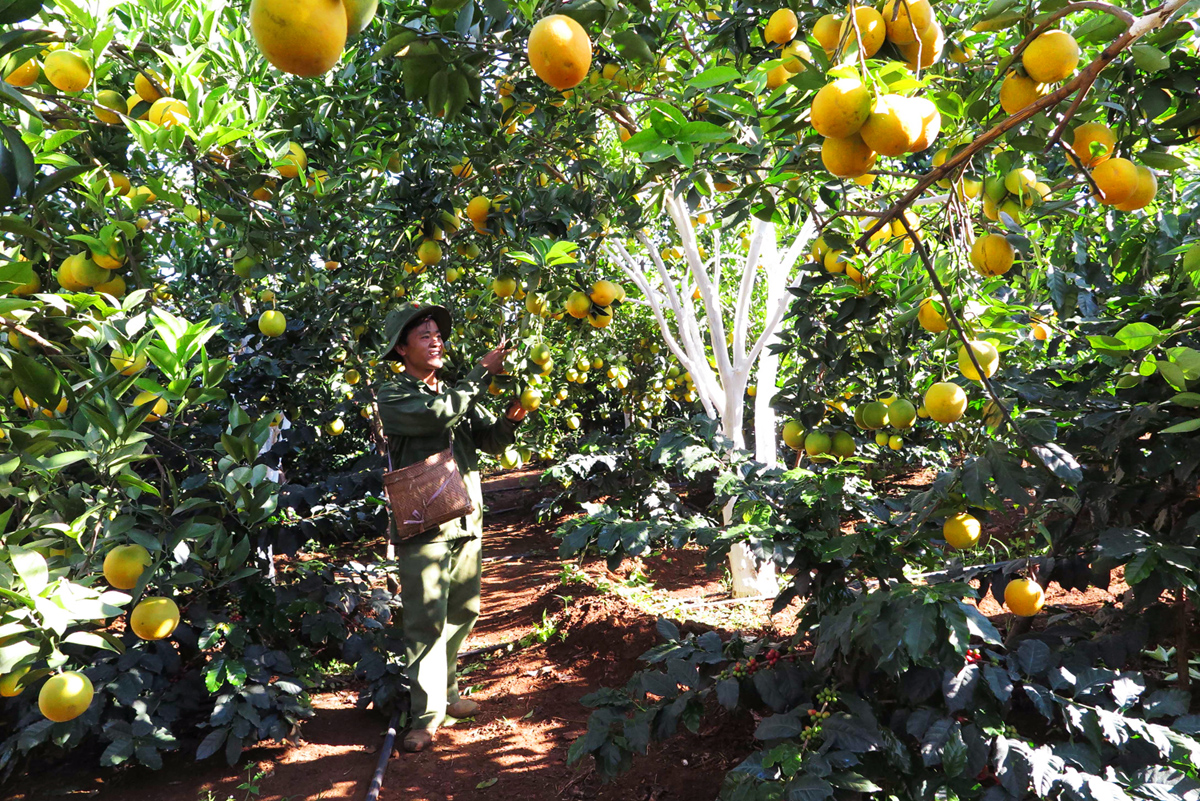 Poverty reduction in ethnic minority and mountainous areas from 2011 to 2020
Over the past 75 years, especially after more than 35 years of renovation, the Party and the State of Vietnam have maintained a consistent position by which economic growth should be associated with sustainable poverty eradication and social security. Vietnam is one of the bright spots in the world in terms of hunger eradication and poverty reduction.
Between 2016 and 2020, the poverty rate of Vietnam has been cut from 9.88% in 2015 to less than 3%, making Vietnam one of the first countries to reach the finish line set by the United Nations in their millennium Development Goals on poverty reduction(1). 100% of communes have a motorway to the center, 80% of villages have access to electricity, over 50% of communes have national standard medical stations, 100% of ethnic minorities and the poor people have access to health care free of charge. However, despite being a bright spot in the world regarding poverty reduction, Vietnam still faces multiple challenges, as stated by the document of the 13th Party Congress: "The multi-dimensional poverty reduction is not sustainable, the risk of re-poverty is still high"(2). Therefore, it is necessary to evaluate the shortcomings in poverty reduction, especially in ethnic minority and mountainous areas to adopt appropriate solutions to achieve the goals set by the 13th Congress by which the rate of multi-dimensional poverty reduction will maintain at 1-1.5%/year (3)
On the basis of the evaluation of 5 criteria of poverty reduction and social security policy-making for ethnic minorities and mountainous areas between 2011 and 2020 which are respectively: 1- Timeliness in policy-making (legal documents and normative documents); 2- Appropriateness of poverty reduction policy-making in terms of beneficiaries, regional characteristics (ethnic minorities, borders, islands, security zones, poor villages, poor communes, poor districts, eco-economic zones,...). Policy-making should be based on resources and capacity of specific localities; 3- Coherence of policies and solutions; 4- Sufficient resources to implement poverty reduction program; 5- Efficiency and effectiveness, we can figure out the following problems:
First, the poverty eradication goal is not achieved sustainably, households that escaped poverty mainly moved to the near-poverty line. The rate of poor households decreased unevenly across regions. Ethnic minority households living in extremely difficult areas, mountainous, remote, and isolated areas, especially in the northern mountainous provinces, the Central Highlands, and the Northwest mountainous region(4) were much more likely to be among the chronic poor. This is a population group with slow poverty reduction. They always remain vulnerable to falling into poverty. This situation has persisted for many years but has not been radically solved.
The rate of near-poor households decreased slowly, from 2015 to 2019, it only reduced by 0.95%, an average of 0.19%/year. Per capita income of poor households in extremely difficult communes, hamlets, villages, and ethnic minorities only increased by 1.2 times, from 15.81 million VND in 2015 to 19 million VND in 2019 (the target of Program 135 is a double increase). The proportion of extremely difficult communes escaping poverty reached only 5.66% (reaching 20% ​​- 30% of the set target). Access to basic social services, such as housing, health care, clean water, and health care remains limited(5).
The percentage of near-poor households covered by health insurance has reached the target. To this effect, most localities (58/63 provinces and municipalities)(6) use local budgets to provide health insurance coverage for near-poor households. The physical facilities and human resources of local health stations are uneven across regions, especially in remote and isolated areas, ethnic minorities. Therefore, people do not trust much in grassroots healthcare units.
Second, the new poverty line set by the multidimensional approach still has some limitations that need to be solved: 1- The income poverty line has not yet met the requirements to ensure a minimum standard of living set by Resolution No. 76/2014 /QH13, dated June 24, 2014, of the 13th National Assembly "Achieving the goal of sustainable poverty reduction in 2020"; 2- Some measurement indicators are not suitable, thus affecting the identification of poor households in localities(7);3- The Government has not yet published the overall results nationwide on the access of basic social services.
Third, resources for poverty reduction are spread across many policies, with policies that have been allocated to invest resources in the last year of the implementation period. The mobilization of resources from businesses and people is still limited. Preferential policies on land, tax, credit and market support are suitable for regional and regional characteristics in order to attract enterprises to invest, and develop production and business in difficult areas and geographical areas. having a large number of ethnic minorities has not brought about the expected effect.
Fourth, the implementation of conditional support policies has only stopped at credit policies, production models (reciprocal capital), or commitments to escape poverty, and has not brought into play the initiative and creativity of stakeholders to have more policies that are diverse and suitable to local socio-economic conditions; has not encouraged the active participation of the poor.
Fifth, the percentage of ethnic minority students attending upper secondary school is not high (63.03%); only over 1.1 million people (14%) out of nearly 8 million ethnic people of working age have been trained. In the 2016-2018 period, there were over 800,000 ethnic minority people, of which 412 thousand rural workers living in ethnic minorities received vocational training. The system of semi-boarding high schools for ethnic minorities has not been paid due attention; Many localities are unable to create jobs for elected officials after graduation. Training has not been related to the job; the issue of residential and farming land for ethnic minorities has not seen solved effectively; unplanned migration in some localities has not been completely resolved.
Sixth, the policy system on poverty reduction is still complicated, and multi-layered, causing obstacles for local authorities and inhabitants. The review, amendment, and promulgation of policies on poverty reduction have not met the requirements, reducing the efficiency of poverty eradication programs in the early days. Some policies remain inadequate, such as housing support, human resource investment for ethnic minorities, the election of public officials to study, etc. These policies are not related to the job and not appropriate to the characteristics and conditions of each region, thus reducing their efficiency. There is no policy to support housing for poor households in the 2016-2020 period.
Seventh, the identification and management of poor and near-poor households are not up to par. In some localities, people who do not meet the criteria are still beneficiaries as poor or near-poor households to take advantage of policies.
Causes:
First of all, the poverty line that is not close to real life is one of the main reasons poverty reduction is not sustainable (most households that escaped poverty meet only income standards. However, they did not yet escape poverty).
Second, the education level of the population is low, the production level is limited; Infrastructure, especially transport infrastructure in mountainous, remote, border, and island areas are not up to par. Big resources for investment are needed while the public budget is still limited. Climate change, natural disasters, floods, and epidemics occur frequently and on a large scale, seriously affecting production activities and people's lives.
Third, resources for implementing poverty reduction policies depend largely on public investment which is scattered. The combination of resources is challenging as each project has different objectives and management mechanisms. Although the central budget ensures funding for the National Target Program on sustainable poverty reduction for the 2016-2020 period, for 21 target programs set by Resolution No. 73/NQ-CP on August 26, 2016 of the Government to approve investment policies for target programs from 2016 to 2020, only 53.61% of the total medium-term funding is allocated.
Fourth, the contingent of staff working on poverty reduction at the grassroots level is unstable; some cadres and civil servants lack experience and awareness in implementing policy; There is no effective approach to solve emerging problems.
Fifth, awareness, responsibility, and efforts for sustainable poverty reduction across sectors and authorities are still uneven; The coordination among central and local authorities in the formulation and implementation of poverty reduction policies is not close, hence extending the time to handle interdisciplinary arising problems.
Sixth, a part of some people are still too dependent and are not determined to escape poverty by themselves.
Solutions
One of the important solutions for sustainable poverty reduction in ethnic minority and mountainous areas highlighted in Resolution No. 76/2014/QH13 is: "Promoting connectivity for socio-economic development between disadvantaged areas and developed areas. Implement preferential policies on land, tax, and credit, and adopt market support policies suitable to regional characteristics in order to attract businesses, especially small and medium-sized enterprises to develop business activities, infrastructure, vocational training, create jobs for local workers, improve the ability to produce goods in poor areas where are living a large number of ethnic minorities". Based on that orientation, sustainable poverty eradication in ethnic minority and mountainous areas requires solutions as follows:
Firstly, structure a comprehensive, inclusive and sustainable social security system to ensure human rights with three functions: Preventing - minimizing - overcoming risks.
Secondly, solve the shortage of residential land, houses, production land, and domestic water; plan for housing to maintain a stable life and create jobs, and give access to domestic water to the people. Continue to promote the socialization of housing services to deliver more affordable homes for people, especially migrants and inhabitants hit by natural disasters and climate change. Diversify investment forms, and encourage people's participation in rural clean water supply and environmental sanitation; and hygiene, particularly in remote areas, areas affected by salinity, droughts, and floods, and areas with decreased water resources.
Thirdly, develop agricultural and forestry production, bring into play the potentials and strengths of regions to produce goods, and move up the value chain to meet the demand of the domestic and export markets.
Fourthly, invest in essential infrastructure to improve the lives of households in ethnic minority and mountainous areas; develop education and training, enhance the quality of human resources; preserve and promote traditional cultural values ​​of ethnic minorities in association with tourism and service development; give top priority to people's health, improve the physical condition and stature of ethnic minorities; prevent and treat childhood malnutrition; reinforce gender equality and address urgent issues facing women and children; Invest for ethnic minority groups and ethnic groups in extreme difficulties.
Fifthly, strengthen state management, and reinforce communication in ethnic minorities and mountainous areas. The control, supervision, and assessment of sustainable poverty reduction programs implemented in ethnic minority areas require the following contents:
1- Develop and promulgate criteria to identify ethnic minorities and mountainous areas according to their development level. This identification must be inclusive, objective, and science-based to select priority areas for investment promotion.
2- Enhance research and technology transfer; build a synchronous database of ethnic minority and mountainous areas for forecasting and policy-making;
3- Mobilize all resources for socio-economic growth, in which public resources play a decisive role to mobilize other resources. Promote international cooperation in ethnic affairs and implementation of ethnic policies;
4- Improve the effectiveness and efficiency of state management of ethnic affairs, implementation of ethnic policies, and combat all manifestations of corruption, wastefulness, and negative phenomena. Adjust and supplement functions and tasks of the Committee for Ethnic Minority Affairs, consider it as the focal point for monitoring and synthesizing policies on ethnic minorities; propose and evaluate policies and investment projects related to ethnic minorities and mountainous areas;
5- Plan, train, foster, and employ rationally local ethnic minority cadres. Adopt specific policies on recruitment of civil servants and public employees belonging to ethnic minorities, especially ethnic minority groups with very few people, and ethnic minority groups in extreme difficulty. Focus on discovering and training high-quality human resources; Foster and grow ethnic minority cadres;
6- Consolidate the political system, and build a solid all-people defense posture. Timely praise, honor, and encourage prestigious individuals, entrepreneurs, and scientists in the ethnic minority community who have made great contributions to the cause of national construction and defense;
7- Reform the credit policy of the Bank for Social Policies by increasing loan amounts, and giving larger access to households having production and business projects to improve the lives of ethnic minorities and mountainous areas.
-------------------
(1) According to the Steering Committee of the National Target Program on Sustainable Poverty Reduction in the 2016-2020 period
(2), (3) Documents of the 13th National Congress, National Political Publishing House, Hanoi, 2021, vol. II, p. 71, 96
(4) According to Report No. 382/BC-CP, dated August 20, 2020, of the Government, in 2015: the poverty rate according to the new standard is 34.52% in the Northwest mountainous region, 20.75% in the Northeast mountainous region, and 17.48% in the Central Highlands; the average nationwide is 9.88%; By 2019, the poverty rate is 20.4% in the Northwest mountainous region, 9.12% in the Northeast mountainous region, 7.6% in the Central Highlands and 3.75% nationwide.
(5) The degree of shortage in multidimensional poverty in 2019: Housing (house quality: 31.67%; housing area: 29.64%); clean water and sanitation (domestic water source: 16.6%; hygienic toilets: 53.58%); health care (medical insurance: 27.19%)
(6) According to Report No. 1198/BC-BYT, dated August 3, 2020, of the Ministry of Health, there are still 17 provinces and cities that have not yet allocated local budgets to cover 100% insurance free of charge for near-poor households, of which there are 5 localities that do not provide free insurance, including Ben Tre, Binh Dinh, Da Nang, Quang Binh, and Thanh Hoa.
(7) Index for estimating household income: not based on asset value or origin - Educational index: Not taking into account the quality of education and teaching and learning facilities for assessment.
- Health index: has not yet reflected the quality of medical service (medical examination and treatment at the commune level, medical equipment when treating patients...)
- Households index: Households who do not have access to hygienic water. Although some localities have access to hygienic water sources, they are not provided enough water for 12 months/year.
This article was published in the Communist Review No. 984 (February 2022)