National Economics University - Techcombank
Monday, October 24, 2022 07:12
Communist Review - After more than 35 years of Doi Moi (Renovation period), Viet Nam's commodity exports have strongly grown, gaining important achievements and becoming the main pillar for the country's economic growth and social development. However, there have remained a number of shortcomings in the industry, requiring breakthrough solutions to ensure sustainable development in the next period.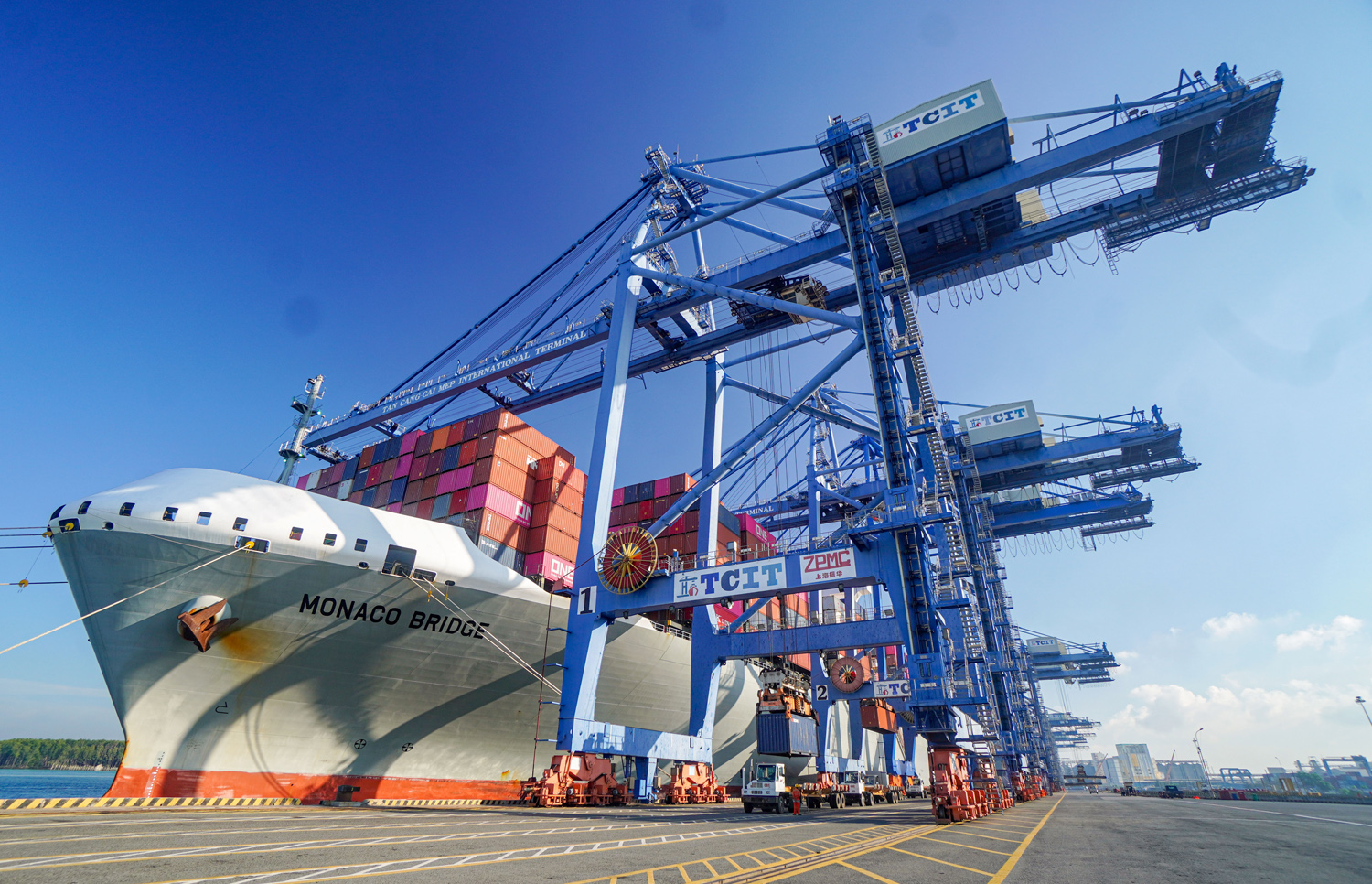 Factors affecting commodity exports in the period of Doi Moi
Firstly, successfully implementing the correct and consistent policies on international integration.
Globalization and international economic integration is the trend of the time. Fully aware of such trend, the Communist Party and State of Viet Nam have carried out the Doi Moi and international integration since 1986. Awareness and implementation of the international integration path have developed in both quantity and quality, from low to high.
With the beginning of the international integration process to move from a closed to an open economy with the motto of "Viet Nam wants to be friends with all countries in the international community, striving for peace, independence and development", after more than 35 years of the Doi Moi, the policy of international economic integration has developed to "proactively and actively integrate and improve the efficiency of international cooperation". From being surrounded and embargoed, by 2020, Viet Nam had established economic, trade and investment cooperation with more than 230 countries and territories; signed more than 90 bilateral trade agreements; 12 multilateral trade agreements; nearly 60 investment promotion and protection agreements; 54 treaties against double taxation. As of December 2021, there were 17 free trade agreements (FTAs) being signed and under negotiation (including 3 new generation FTAs). Currently, Viet Nam is one of the countries participating in many FTAs in the world. The participation of FTAs from low level to higher ones, from region to world, from economy to other fields is the right path of integration, ensuring a solid foundation for Viet Nam's development in the future.
Secondly, the market economic model has been increasingly perfected
Shifting to a market economy is a correct and creative policy of the Communist Party and State of Viet Nam. The awareness of Viet Nam's market economic model has been more and more correct and scientific. The objective laws of the market economy are respected and the State's macro-regulatory management has been increasingly appropriate. The market economy has been improved theoretically and successfully implemented in Viet Nam.
Thirdly, economic crises, recessions and COVID-19 pandemic.
During more than 35 years of the Doi Moi, Viet Nam has faced several global economic crises and recessions. The financial crisis, which started in Thailand in July 1997, had quickly spread to other countries in the region. Initial monetary and financial turmoil leaped to an Asian recession.
The economic crisis in the period 2008 - 2013 had various negative impacts on global trade. The weak purchasing power made the prices of many commodities, such as crude oil, rubber, coal, rice, rice, iron, steel, automobiles, etc., significantly decreased, in which there were several main export goods of Viet Nam.
The blockade and border lockdowns to prevent the COVID-19 pandemic have brought global trade to a halt, supply chains have been broken, leading to a wave of bankruptcies of many enterprises around the world. The impacts of the economic crisis, recession and COVID-19 pandemic have strongly impacted the economy in general and Viet Nam's export goods in particular.
Viet Nam's exports in 35 years of the Doi Moi
During 35 years of the Doi Moi (1986 - 2021), Viet Nam's exports achieved great results as follows:
Firstly, export turnover continuously increased at high levels.
The increase in turnover directly reflected the rise of export in scale and showed the sustainable growth of export in terms of value.
In general, the turnover of Viet Nam's export within 5 years was more than twice as much. In 2020, Viet Nam reached a new record in the scale of export and import turnover when it exceeded 500 billion USD. The total import and export value reached 545.36 billion USD, up by 5.4% compared to 2019. In which, the value of export reached 282.65 billion USD, up to 7% (equivalent to 18.39 billion USD). It was such an impressive growth when Viet Nam made good use of opportunities in international economic integration to expand its export, significantly contributing to the state budget, economy as well as enterprise community to cope with the COVID-19 pandemic.
The export turnover in 2021 reached 336.31 billion USD, increasing 19% compared to 2020. It was an impressive achievement regardless of the disrupted global supply chains and domestic economy difficulties due to the COVID-19 pandemic. In general, in the period of 1986 - 2021, the country's export always grew up at a double-digit rate. This achievement was only gained by a few countries.
Secondly, strongly developing the quantity and improving the quality of export goods
In general, all export products have continuously increased year by year, and at the same time, some new products have been introduced. Particularly, many key export products have maintained a stable position and experienced a sharp increase, such as agricultural products, electronic goods, telephones, textiles, footwear, etc. Several key export products have earned increasing reputation in the regional and international markets, such as rice, cashew nuts ranking second in the world and coffee ranking fourth in the world.
In 1991, Viet Nam only had 4 commodities with the turnover of up to 100 million USD, of which crude oil - the product with the highest turnover, was only 581 million USD/year. In 1997, there were 7 products with export turnover of up to 500 million USD (including rice, footwear, textiles, crude oil, coffee, electronic goods, aquatic products); by 2015, Viet Nam had 24 commodity groups with the export turnover of up to 1 billion USD, of which 12 groups had export turnover of more than 2 billion USD. In 2021, there were 35 items with the export turnover of over 1 billion USD, accounting for 93.8% of total export turnover, of which 8 items generated over 10 billion USD, accounting for 69.7%.
Domestic manufacturing enterprises have focused on technological innovation and product quality improvement. As a result, the quality of export goods has improved significantly, initially creating the competitiveness of Vietnamese goods in the world market, and also positively affecting the quality of domestic products. Currently, a lot of export goods of Viet Nam such as electronic products, telephones, rice, crude oil, seafood, garments, shoes, coffee, cashew kernels, pepper, etc. have been gradually recognized meeting the international quality standards.
Thirdly, the structure of export goods has made a strong shift from raw products to processed and technological ones.
The positive shift in the structure of export goods is to increase the group of processed and manufactured industrial goods, and to decrease the group of minerals and fuels.
The proportion of export value of processed and manufactured industrial products has grown from 53.6% of the total export turnover in 2010 to 85.2% in 2020. Meanwhile, the proportion of minerals and fuels products has plunged sharply, from 11.2% in 2010 to 1% in 2020. The proportion of processed and manufactured industrial products has gone up mainly due to the rise in export turnover of phones and components, while the proportion of light industrial products and handicrafts fell.
The structure of export goods according to Standard international trade classification (SITC) has been continuously improved in a positive direction, reducing raw material export, increasing processed and refined products. This creates conditions for Vietnamese goods to participate more deeply in global production and supply chains. Raw materials accounted for over 92% of total export turnover in 1991, 34.8% in 2015 and less than 15% in 2020. Processed and heavily processed goods (including manufactured goods) in 1991 only accounted for about 8%, 81.3% in 2015 and 85.5% of total export turnover in 2020.
Fourthly, the export markets have been diverse and developed stably.
Before 1986, Viet Nam's import and export activities mainly depended on the market of the Soviet Union (former) and Eastern European countries. In 1991, Viet Nam developed more than 20 export markets, but still concentrating in countries in the Asia-Pacific region. In 2015, for the first time, Viet Nam had 29 export markets over 1 billion USD with a total value of 147.36 billion USD, accounting for more than 90% of the total export turnover of the country.
In 2020, there were 31 export markets with the turnover of over 1 billion USD, 5 of which contributed over 10 billion USD, and 8 markets contributed from 5 to 10 billion USD. In the context that the export in some key export markets of Viet Nam were affected by the COVID-19 pandemic, such as the fall of export to the Association of Southeast Asian Nations (ASEAN) by 8.4% and to the European market by 5.3% compared to 2019, the overall export turnover still gained positive growth. This has proved that exporters have found alternative markets to boost exports to offset the decrease in turnover in traditional markets.
By 2021, Viet Nam had developed trade relations with more than 230 countries and territories. Viet Nam has economic and trade relations with all industrialized countries (G7), major economic regions and global economic, trade, financial and monetary institutions.
Fifthly, exports from the foreign direct investment (FDI) sector have significantly increased.
Foreign direct investment (FDI) enterprises have contributed to the total export turnover of the country since 1988. This sector experienced rapid export growth during the period of 1988 - 2021. During the period of 1988 - 1991 (excluding crude oil export turnover), the FDI sector only exported 51 million USD. The volume increased to 112 million USD in 1992, accounting for 4.3% of the total export turnover of the country. In 1996, it reached 786 million USD, accounting for 9.2%, and in 2020 it contributed 202.89 billion USD, accounting for 71.7%. By 2021, exports of the FDI sector (including crude oil) reached $245.22 billion, up 20.9% compared to 2020 and accounting for 72.9% of the country's total export turnover. It is noteworthy that about 75% of export turnover of FDI enterprises are processed and deeply processed goods, of which footwear and apparel account for about 35% and there were some items of high technique and technology, such as electronic goods, telephones and industrial tools, etc.
Sixthly, Viet Nam - from a trade deficit country to a trade surplus country.
The proportion of trade deficit compared to the total export turnover in the period of 1986 - 1990 was very high, at 74.2% of the export turnover, in the period of 1991 - 1995, it was 32.8%, and only 1.56% in the period of 2011 - 2015. In 2016, the country's merchandise trade balance had a turning point, changing from trade deficit to trade surplus of 9.16% and continued in the of period of 2016 - 2021 with the trade surplus of 3.22% for the whole period.
The country's merchandise trade balance at the end of 2020 reached a surplus of 19.95 billion USD - the highest level in 5 consecutive years of trade surplus since 2016. In 2021, the economy of the world and Viet Nam was still facing a lot of difficulties due to the COVID-19 pandemic, but Viet Nam still reached the trade surplus of $4.08 billion.
The merchandise trade balance achieved a surplus in the entire 5-year planning period of 2016 - 2021 with year by year increase (except for 2021 due to the impact of the COVID-19 pandemic), making a great contribution to GDP growth, creating jobs, promoting the consumption of goods, especially agricultural products for farmers. The trade surplus helped to raise foreign exchange reserves, stabilizing exchange rates and the macro-economy as well.
The process of international economic integration has been effectively exploited, reflecting in the association of export growth with effective control of import activities, thereby helping the trade balance shift from trade deficit to trade surplus. It is also our Communist Party and State's direction of macroeconomic management for many years. Since 2016, the growth rate of Viet Nam's export has always increased faster than import, creating momentum for trade surplus.
Shortcomings of Viet Nam's goods export:
Besides the above achievements, Viet Nam's goods export after more than 35 years of the Doi Moi also had some major limitations as follows:
Firstly, the scale of goods export is still small, the current export growth is high but it is not really sustainable in the medium and long term, there are many potential risks that can affect the stable export growth.
Secondly, the development of export sources is not sustainable, being lack of linkages and easily affected by fluctuations in foreign markets. The large-scale production of goods based on modern technology is rare. Most of the enterprises producing export products are small-scale and lack information on export markets. Not many Vietnamese enterprises can participate in the global networks of production, distribution and value chains.
Thirdly, the competitiveness in export is still limited at all three levels: product level, enterprise level and country level. It is due to limitations in terms of highly qualified labor resources, financial and technological resources. The process of digital transformation and business development on the basis of digital economy and digital technology is slow.
Fourthly, the level of market diversification of Viet Nam's key export products is not high. Especially, the group of agricultural and aquatic products still faces many difficulties in accessing markets with high requirements on quality and food safety.
Fifthly, many key export products are processed goods with low added value. In 2021, there were 8 items with export turnover of over 10 billion USD, accounting for 69.7% of the total export turnover of goods, which were electronics, computers and components; phones and components; means of transport and spare parts; iron and steel; wood and wood products; footwear; textiles; other machines, equipment and spare parts. It is not quite reasonable because the group of processed and manufactured goods is still mainly being processed and assembled for foreign countries and the added value of exported products is low. Export products with high technology, intelligence and added value are still limited.
Sixthly, Viet Nam's export goods are facing numerous difficulties because many countries have switched to new forms of protection instead of applying technical barriers, such as imposition of anti-dumping, anti-subsidy and trade defence, etc. requiring proper research and change in approach to promptly adjust and respond to. Although Viet Nam has been very active and proactive in effectively handling issues in trade disputes, applying trade remedies, and overcoming trade barriers of import markets., the world situation is experiencing very complicated and unpredictable developments in the context of the COVID-19 pandemic and increasing protectionism.
Seventhly, export still heavily depends on FDI enterprises. Due to the fact that the production and export of these enterprises are strongly dependent on regional and global supply chains, whenever there is a change in the supply chain, Viet Nam's export will be strongly affected.
Eighthly, facilities for export are still poorly invested. Viet Nam's logistics system, including physical and technical infrastructure, logistics services and connections, is underdeveloped.
Ninthly, there still exist several obstacles in mechanisms and policies for export management and administration. In particular, the foreign trade legal system, support services on export and import procedures, export market information, and cross-border e-commerce support are limited. In addition, businesses face with difficulties in accessing the State's financial support packages during the COVID-19 pandemic.
Solutions to promote exports by 2030
Working out the export development strategy for the 2021 - 2030 period according to sustainable goals on the basis of improving export productivity, quality and efficiency; promoting comparative advantages and improving competitiveness; deeply and effectively participating into high-value-added stages in the global value chain. Strongly promoting the restructuring of export goods in depth, aiming at the core of industrialization and modernization. Diversifying export markets, focusing on market development for key export products with great competitiveness, high added value or product groups with a large proportion of export turnover. Improving the capacity to meet the regulations, standards of quantity, food safety, social responsibility, environment, rules of origin in new generation FTAs.
Implementing Viet Nam's export strategy to 2030 in the context of the world economy's post-pandemic recovery; global trade and commodity market size are strongly growing up; global trade is being reshaped as countries seek to promote trade cooperation through regional or inter-regional agreements; the strong development of science and technology has changed traditional and modern international trade. The interdependence between countries is increasing through trade flows and global supply chains. Increased protectionism and changes in international trade policies of countries are at risk of a trade war.
Locally, new opportunities for export come from accelerating institutional reform and transforming growth models, improving competitiveness based on thinking renewal, focusing on innovation, digital transformation, scientific and technological development. In addition, there are many difficulties and challenges coming from the internal weaknesses of the economy that are slowly being overcome, the risk of falling behind and falling into the middle-income trap is still very high; the increase of non-traditional trade security challenges, especially on social, environmental and climate change issues.
In order to take advantage of opportunities and overcome challenges, it is necessary to have synchronous and breakthrough solutions to sustainably develop Viet Nam's export to 2030, in which, it is necessary to focus on the following ones:
Firstly, perfecting mechanisms and policies, creating a favorable macro environment for export.
Building, amending and supplementing economic and trade mechanisms and policies should be implemented synchronously and regularly. Reviewing the current legal documents, mechanisms and policies to clarify any contents that are inconsistent with international regulations and commitments in FTAs, thereby amending, supplementing and promulgating new appropriate legal documents. Consolidating the legal institutions, strengthening the system of economic, labor, administrative courts and arbitration institutions. Creating a favorable, open and transparent business environment. Actively and actively participating in the development of common rules and regulations of the World Trade Organization (WTO), ASEAN Economic Community (AEC), Asia-Pacific Economic Cooperation Forum (APEC); actively protecting the legitimate interests of the State, Vietnamese enterprises and consumers in international economic, trade and investment disputes.
Building a modern Vietnamese market economy institution, ensuring the systematics, publicity, transparency and stability; ensuring favorable conditions for export activities and effectively controlling import activities. Promoting the export of deep processing, high technology goods and encouraging the import of source technologies, modern machineries and technologies.
Secondly, enhancing the national competitiveness in commodity export.
Effectively innovating growth model in depth, restructuring industries and businesses. Investing in developing synchronous, modern and highly connected infrastructure. Building provincial and national logistics centers to participate in regional and international logistics networks. Investigating, classifying and evaluating the competitiveness of each product, line of product, service, enterprise, and locality. The development of the private enterprise sector has really become one of the main driving forces of the national economy. Strongly developing economic links, accumulating investment resources for in-depth development of commodity production. Investing in the development of national brands and the State should support enterprises to register for trademark protection in the international market. Encouraging the formation of concentrated key export production zones to create large-scale and high-quality sources of export goods, meeting international standards.
Thirdly, improving the competitiveness of enterprises and export products.
Enhancing the competitiveness of enterprises and export products based on appropriate business strategies, innovating business methods, enhancing the potential of enterprises and developing domestic and foreign links. Enterprises should proactively and actively participate in the process of international division of labor, regional and international production networks, distribution networks, and global value chains. It is essential to accelerate the process of digital transformation and business on the digital technology platform for enterprises. Diversifying both traditional and modern export methods. In particular, it is required to promote the application of cross-border e-commerce and join the international e-commerce floors.
Fourthly, diversifying export markets.
Promoting bilateral and multilateral negotiation activities with key and potential markets. Strengthening export promotion activities in the direction of focusing on expanding markets in developing countries, potential markets and emerging markets. Developing exports with depth in traditional markets, such as the US, EU, China, East Asian countries, ASEAN, etc.
Fifthly, making more effective use of the advantages brought by FTAs.
The imposition of a low tax rate or 0% on Vietnamese goods as agreed upon in a total of 17 FTAs that Viet Nam has been negotiating, signing and implementing is a driving force to promote enterprises' export activities. Enterprises should carefully study and take advantage of the incentives provided by FTAs to penetrate the market, increase export growth and achieve high and sustainable efficiency in export.
Sixthly, strengthening communication activities in export.
Promoting communication activities on FTAs, international markets, export and import products. The Ministry of Industry and Trade should assume the prime responsibility for, and coordinate with relevant agencies to compile and publish publications on import and export useful to enterprises. The State should focus on investing in big data database, strongly developing a shared and international electronic database to support exports.
* Tran Huong Thao, Hoang Duc Thanh
This article was published in the Communist Review No. 988 (Avril 2022)