Member of the Party Central Committee, Minister of Foreign Affairs
Monday, January 23, 2023 08:36
Communist Review - As close neighbors, Viet Nam and Laos share time-honored bond throughout their respective histories of national construction and defense. Under the leadership of the Communist Party of Indochina (later known as the Communist Party of Viet Nam) and the Lao People's Revolutionary Party, such intimate relationship has soared to new heights, playing an important part in ensuring the success of each country's revolution.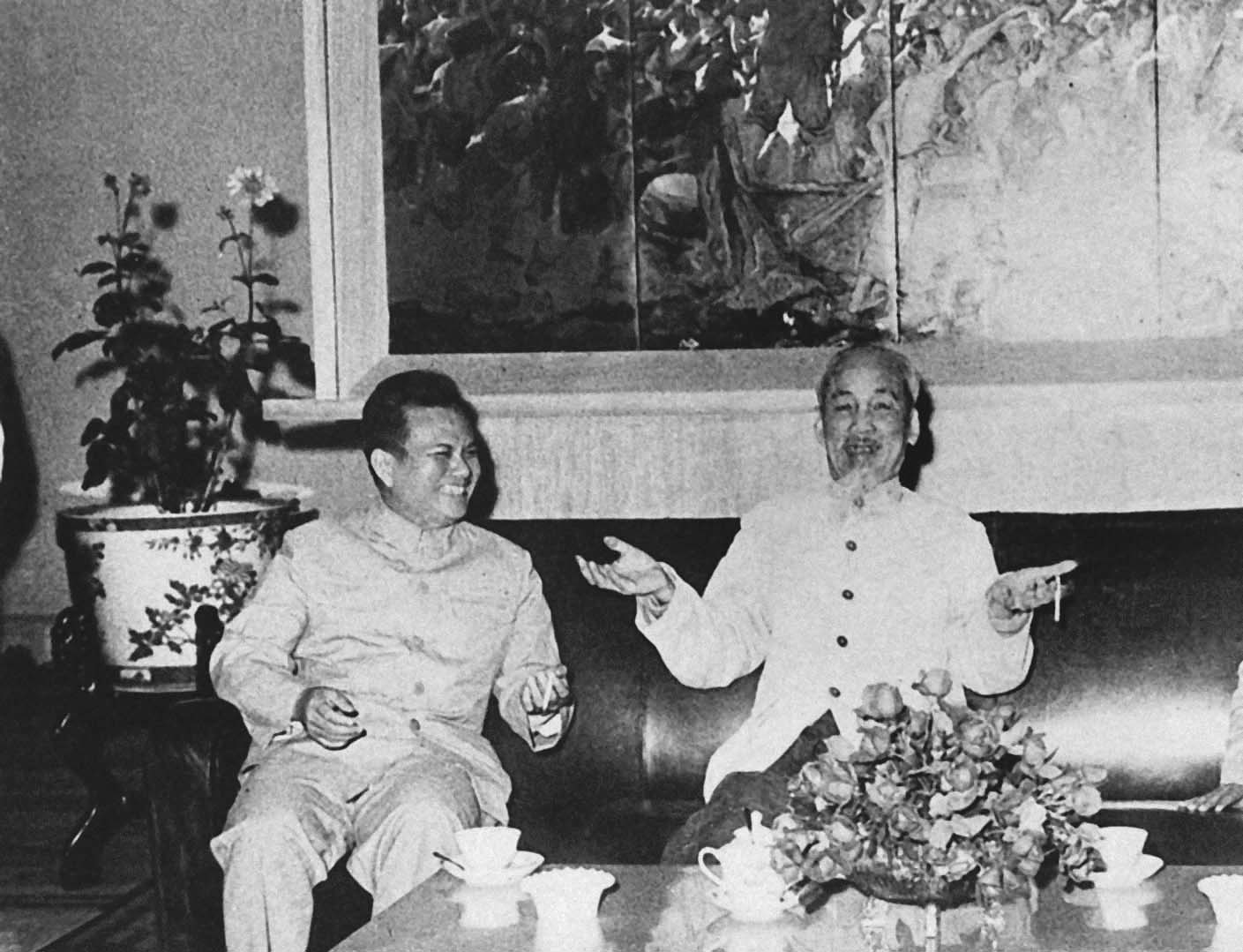 The glorious 60-year journey of the special relationship between Viet Nam and Laos
Motivated by the burning desire for national independence and freedom, President Ho Chi Minh, President Kaysone Phomvihan and President Suphanuvong, together with other predecessors joined their hands in building, preserving and promoting the great friendship, close solidarity and revolutionary combat alliance. During the resistance war against the colonialists, the Viet Nam - Laos alliance shared the trenches, suffered from untold hardships to reach triumphs, with the globe-shaking historic victory of Dien Bien in 1954 being the peak.
Sixty years ago, Viet Nam and Laos officially established diplomatic relations on September 5, 1962, in the middle of the fierce resistance war against imperialism and right after the signing of the 1962 Geneva Agreement on Laos. That day marked a new chapter in the bilateral relationship, affirming the shared destiny of the two peoples in the struggle for national liberation and reunification. The most arduous years witnessed unlimited mutual support that Viet Nam and Laos gave to each other, both materially and spiritually. The reciprocal assistance was so great that "a grain of salt or a stalk of vegetables would be equally divided". Tens of thousands of Vietnamese troops were dispatched to Laos on the fighting missions with local forces. In return, Laos wholeheartedly supported Viet Nam in "cutting through Truong Son mountain" to construct the historic "Ho Chi Minh trail". These mutual assistances built up incomparable strength, enabling the ultimate victories in the cause of the national liberation and reunification in each country in 1975.
After peace was restored, the two countries signed the Treaty of Friendship and Cooperation on July 18, 1977, which served as an important political and legal basis for the two sides to constantly strengthen and comprehensively develop bilateral relationship in the period of national construction and defense. The agreement marked a milestone in respective revolutions on the solid foundation of the unshakable solidarity and friendship between the two parties and peoples. The two countries pledged to voluntarily cooperate and aid in safeguarding independence, peace, and promoting socio-economic development.
Under the leadership of the Communist Party of Viet Nam and the Lao People's Revolutionary Party, the socio-economic development and international integration of each country have obtained great achievements of historical significance. Particularly, the bilateral relation has expanded comprehensively with close-knit political link being the firm foundation for areas of cooperation. Interaction between leaders of all levels is maintained regularly, which can be demonstrated by diverse and effective activities of the Viet Nam - Laos Intergovernmental Committee, ministries, departments, branches, localities, social organizations and people of all walks of life. Numerous joint projects have been effectively promoted, demonstrating the loyal friendship and special relationship. For instance, Laos' new National Assembly Building inaugurated in 2021, a gift from the Party, State and people of Viet Nam, is one of the symbols of the bilateral relationship in the new context.
Cooperation in defense and security stands among the most important pillars of the Viet Nam - Laos relationship. The two sides have closely coordinated and supported each other in maintaining political stability, ensuring national defense, security, social order and safety, especially in preventing and combating transnational crimes, and strengthening the shared border of peace, friendship, cooperation and development. Thereby, bilateral exchanges and socio-economic development have been promoted in border localities.
Economic cooperation has become a long-term foundation in the bilateral relations with promising accomplishments. During the 2016-2020 period, bilateral trade grew at an average of 10% annually. Despite negative impacts of the COVID-19 pandemic, two-way commerce volume rose by 33.3% in 2021, reaching $1.37 billion. In term of investment cooperation, Viet Nam has poured money into in 214 projects in Laos with a total capital of $ 5.33 billion, becoming the third biggest investor. These projects cover a wide range of sectors such as hydropower, infrastructure, aviation, finance, banking, telecommunications, agriculture, among others. Not only have they deepened the bilateral economic connection but they have also promoted socio-economic development and international economic integration. Notably, the Viet Nam - Laos international port project in Vung Ang (Ha Tinh) together with cooperation projects in exploration and construction of roads and railways across the border between the two countries along the East - West axis will significantly enable Laos to exploit sea transport and get access to international maritime routes, realizing Laos' strategic goal of a logistics center in the Mekong sub-region and Southeast Asia at large.
Cooperation in education - training and human resource development has always been paid special attention by the Party and State of the two countries. So far, tens of thousands of Laotian students have studied in Viet Nam, while the figure for exchange Vietnamese students to Laos stays at several thousands. Many of these students have become excellent leaders, managers and researchers, playing essential part in each countries' national development.
Also, positive results could be seen in other areas of cooperation like science - technology, environment, health, culture – society. Once again, mutual support was proved in the context of COVID-19 pandemic when Viet Nam and Laos, despite their own difficulties, stood side by side, sharing resources, medical equipment and vaccines in a timely and effective manner.
Apart from bilateral frameworks, the special friendship and solidarity between Viet Nam and Laos is also affirmed at multilateral level. The two sides have shared similar voices, mutual support and coordination at international organizations and forums, such as the United Nations, the Association of Southeast Asian Nations (ASEAN), the Asia Cooperation Forum, and the ASEAN Community. – Europe (ASEM), Greater Mekong Subregion (GMS), Cambodia-Laos-Viet Nam Development Triangle (CLV), Cooperation of Cambodia - Laos - Myanmar - ma - Viet Nam (CLMV), The Ayeyawady-Chao Phraya-Mekong Economic Cooperation Strategy (ACMECS), etc.
Looking back on the heroic history of the past 60 years, Viet Nam and Laos could take pride in the special relationship of comrades plus brothers. That relationship was initiated by President Ho Chi Minh, President Kaysone Phomvihan, President Suphanuvong, and promoted by sequential generations. Stemming from the faithful comradeship between the Communist Party of Viet Nam and the Lao People's Revolutionary Party, which have always stood side by side in the previous struggle for national independence and construction, the special relationship satisfies public aspiration for solidarity and mutual assistance. Dubbed as "helping others means helping yourself", the special relationship is meant to strengthen friendly cooperation, equality and mutual benefits. In the words of President Kaysone Phomvihan, it is not common in the world that two communist countries maintain such a durable, faithful solidarity and fighting alliance.
In commemoration of the 60th founding anniversary of diplomatic relations (September 5, 1962 - September 5, 2022) and the 45th anniversary of the signing of the Viet Nam - Laos Treaty of Friendship and Cooperation (July 18, 1977 - July 18, 2022), practical activities with profound and far-reaching contents have been held in both countries as part of the "Viet Nam-Laos, Laos-Viet Nam Solidarity and Friendship Year 2022". These activities not only honor the greatness of the special bilateral relationship but also pay tribute to predecessors who devoted their life to the promotion of the special relationship. At the same time, these events will play a crucial role in extensive propaganda about the bilateral relationship, thereby cementing pride and determination to protect, preserve and develop this sacred and priceless relationship.
Enhancing comprehensive cooperation, jointly building a bright future of the two peoples of Viet Nam and Laos
Viet Nam - Laos relation is always identified by the Party and State of Viet Nam as top priority in its foreign policy. For Vietnamese side, each and every victory in the cause of national liberation and reunification in the past and the current renewal process of Viet Nam is closely linked to the support and goodwill of the Lao Party, State and people. For every Vietnamese, this relationship is eternal as dubbed by President Ho Chi Minh "The affection between Viet Nam and Laos is even deeper than Hong Ha, Cuu Long river."(1)
Being comrades plus brothers, the Party, State and people of Viet Nam are very pleased with the great achievements that the Lao Party, State and people have gained in the cause of socio-economic development, national defense, living standard improvement and international integration. Viet Nam sincerely hopes that the Lao people of all ethnic groups under the wise leadership of the Lao People's Revolutionary Party will successfully build a peaceful, independent, unified and prosperous Laos with a constantly improved status in the international arena.
The world and the region are witnessing profoundly complex upheavals. In that context, Viet Nam and Laos, regardless of their own difficulties and challenges, enjoy new opportunities for development. Viet Nam is making every effort to implement the Resolution of the 13th Party Congress, striving to become a high- middle income country by 2030, and a developed country by 2045. For Laos' part, it is trying its best to put the Resolution of the XI National Congress of the Lao People's Revolutionary Party into force with the goal of sustainable development by 2030 and carry out the green development strategy, successfully building a country of peace, independence, democracy, unity and prosperity.
To get these objectives realized, it is required that the two Parties continue to protect, preserve and make every effort to develop the special relationship and comprehensive cooperation to new heights for the sake of a brighter future of both countries.
To this end, it is necessary to constantly strengthen and deepen the pillar of political relations between Viet Nam and Laos, which plays a pivotal role in guiding the overall cooperative relationship. Also, bilateral cooperative mechanisms at all levels need to be solidified to further strengthen political-strategic trust. Closer defense and security cooperation need to be further promoted to make an important contribution to maintaining a peaceful and stable environment, firmly protecting the independence, sovereignty, unity and territorial integrity of each country.
Besides, it is required to expand economic, trade, investment cooperation, economic connectivity and infrastructure, serving as the long-term and solid foundation for bilateral relation. The Viet Nam-Laos Intergovernmental Committee mechanism needs to be strictly implemented in the spirit of "get it started, get it done". The two sides need to mobilize and utilize internal and external resources to speed up economic cooperation and connectivity. High priority should be given to strengthening the connection of road infrastructure, railways, energy, telecommunications, digital economy, finance - banking, etc. Thus, expected economic connectivity and self-reliant economies could be realized.
In addition, it is advisable to keep deepening cooperation in education- training, health, tourism, science- technology, environment, climate change adaptation, etc. towards improving quality and efficiency, contributing to enhancing and complementing each other's advantages in socio-economic development.
It should be borne in mind that the two countries continue to attach importance to deeply grasping, educating and raising awareness of cadres, party members and people, especially the young generation, about the strategic importance of the bilateral relationship in the cause of national construction and defense.
In order to strengthen comprehensive cooperation and upgrade the special relationship between Viet Nam and Laos to new heights, great attention should be paid to further better mechanisms, policies, implementation of strategic agreements and goals. To do so, it is necessary to continue renovating the cooperative mindset to have breakthrough directions and measures, creating new driving forces for the comprehensive, sustainable and effective growth in bilateral relationship under new circumstances.
Under the leadership of the two Parties, the direction, management and administration of the two Governments, the Ministry of Foreign Affairs of the two countries have promoted the long-lasting tradition of close cooperation at the levels of ministries, departments, branches, localities and citizens. The two ministries continue to effectively implement the bilateral cooperation agreement for the period of 2021 - 2025; in which, the emphasis is placed on coordinating in economic and cultural diplomacy, maintaining the border of peace, friendship, cooperation and development, strengthening cooperation in training and fostering capacity of the diplomatic staff, closely coordinating at international mechanisms and forums, sharing experiences in foreign research, foreign communication, consular affairs, citizen protection, etc.
Being established, preserved and nurtured by generations of leaders of the two Parties, States and peoples, the special solidarity and close relationship between the two countries has expanded in all domains come what may, becoming an invaluable common property of the two peoples, a decisive factor for respective revolutionary victories. In the coming time, the great friendship, special solidarity and comprehensive cooperation between Viet Nam and Laos will become more important than ever. No matter how difficult and arduous it may be, both countries are determined to do their best to "maintain the Viet Nam-Laos relationship like shielding the pupils of our eyes"(2) with a view to preserving that eternal relationship for the sake of prosperity in each country and peace, stability, cooperation and development in the region and beyond.
------------------
(1) Ho Chi Minh: Complete Volume, National Political Publishing House, Hanoi, 2011, Vol. 14, p. 55
(2) Speech by General Secretary of the Communist Party of Viet Nam Nguyen Phu Trong at the celebration of the 55th anniversary of the establishment of diplomatic relations between Viet Nam and Laos (September 5, 1962 - September 5, 2017) and the 40th anniversary of the signing of the Viet Nam - Laos Treaty of Friendship and Cooperation (July 18, 1977 - July 18, 2017), People's Public Security Newspaper Online, https://cand.com.vn/Su-kien-Binh-luan-thoi-su/Toan-van-cua-dong-chi-Tong-Bi-thu-Nguyen-Phu-Trong-tai-Le-ky-niem-55-nam-Ngay-thiet-lap-quan-he-ngoai-giao-va-40-nam-Ngay-ky-Hiep-uoc-Huu-nghi-va-Hop-tac-Viet-Nam-Lao-i440502/
This article was published in the Communist Review No. 993 (July 2022)