Member of the Party Central Committee, Editor-in-Chief of the Communist Review
Tuesday, September 6, 2022 07:35
Communist Review - Developing "ecological agriculture, modern countryside, civilized farmers" is a novel mindset on managing and developing "Tam nong" introduced in the 13th Party Congress. To fundamentally shift from the traditional concept of "Tam nong" to developing "ecological agriculture, modern countryside, civilized farmers", a breakthrough must begin with the leadership of the Party, the role and responsibility of the political system, associated with the promotion of democracy in rural areas.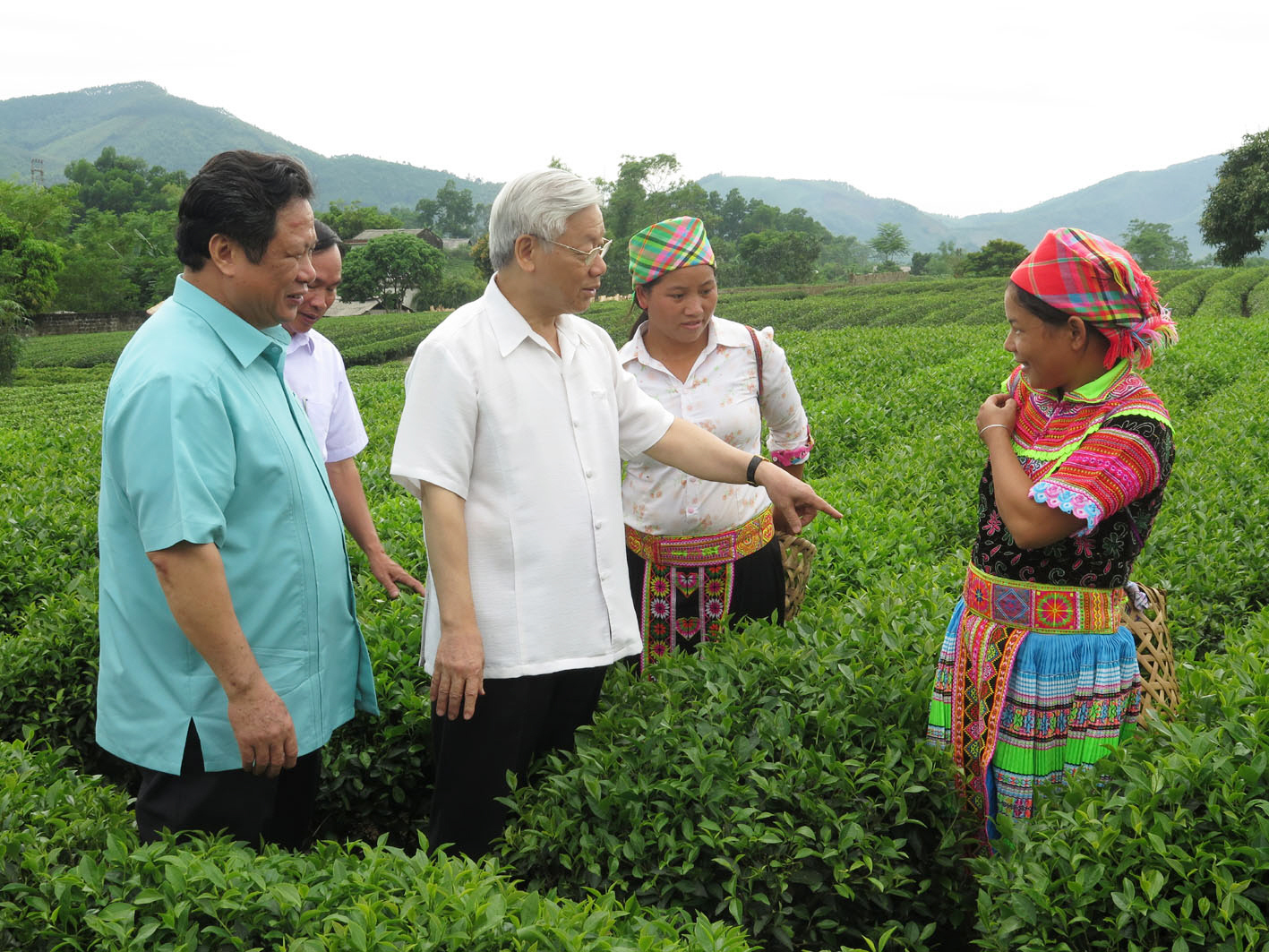 1- "Tam nong" has been a millennial issue of an agricultural country like Vietnam, whilst the development of "ecological agriculture, modern countryside, civilized farmers" is a completely new content, form and method. This is also the starting point for reviewing, innovating thinking and restructuring management methods and developing the issues of "Tam nong" in the new period.
As a nation built and developing on the basis of wet rice agricultural civilization, "Tam nong" has been the mainstay of national policy in all periods. If agriculture, farmers, and rural areas almost stagnated over thousands of years of history, yet in the past decades, they have transformed with a rapid pace and strong intensity, thanks to the drive of endogenous forces and policy levers, the driving force of the market economy and the pressure of international integration.
The first transformation is switching from small-scale, fragmented production based on small fields, combined with a "mixed garden" in a self-sufficient model to commodity manufacturing agriculture; from a simple commodity economy that solely exchanged surplus products of smallholder production (through village markets) to a developed commodity one producing goods for sale in the market; from each village as an isolated oasis to association, cooperation, integration and development. Doi Moi has identified significant steps for developing the agrarian economy, rural society, farmers' life. It has made a breakthrough at a faster rate over the past decade.
Agriculture and the rural economy have gradually adapted to the market mechanism. A mindset on agricultural production for sale in the market has been established and become quite popular. Many locales have organized production according to the value chain to access the world market; specialized gardens have step-by-step replaced mixed gardens; wholesale markets have been developed to transport commodities over long distances; refining agricultural, forestry and fishery products for sale in supermarkets or for export is valued by various localities. Enterprises have initially become a significant driving force for agricultural economic development along the value chain, promoted commercialization of agricultural produce, applied technology, and reorganized production based on linkages between households and cooperatives. Native resources have been effectively identified and promoted, together with the "One Commune One Product Program" (OCOP), creating higher economic values, bettering farmers' life in numerous locales. A purely agrarian economy doesn't exist anymore. Instead, a number of localities have developed the rural economy, with agriculture - industry - services tightly linked and mutually complementary, contributing to accelerating rural urbanization. Rural infrastructure has changed significantly over 10 years of implementing the New Rural Development Program, especially roads, electricity, schools, health stations, cultural houses, irrigation, telecommunications, radio, and television works....
Rural dwellers' life has been markedly enhanced, from basic needs such as food, clothing, accommodation, transportation, communication, ...to access to basic public services, such as education, health care, culture... The quality of rural family meals has been significantly improved, meeting the nutritional and physical development needs, as well as raising life quality comprehensively. Houses, with modern architecture, means of transportation, family activities approaching urban civilization (such as motorbikes, refrigerators, televisions, rice cookers, modern sanitation works, ...) are quite common in most well-off families, whose incomes exceed the near-poor threshold. Public spaces in the countryside today not only have brick roads, communal houses, wharfs, banyan trees, etc., but also concrete roads with electricity for lighting, cultural houses, cultural institutions bearing modern elements, and internet connection. Achievements in human resource education and training have been gained, enabling farmers to raise their intellectual level, improve working skills, and promptly adapt to the restructuring of industries and occupations. Health insurance has been increasingly expanded, aiming to cover all rural residents, allowing low-income people and ethnic minorities to receive support from the State, ensuring their right to medical care services. The number of well-off households who become rich from agricultural, forestry and fishery production is increasing. Besides, more and more models of association, cooperation have emerged, which innovates production organization, stimulates land conversion, restructures labor, applies technology, bringing about high economic efficiency. These are pioneering forces, active elements as the core for the formation of new-generation farmers.
However, rural socio-economic changes have presented both positive and negative aspects, pushing and resisting forces in recent times. Compared with the national average development level, that of the countryside is still lower, especially in mountainous and remote areas, ethnic minority communities and islands. Agricultural production remains precarious; small-scale and fragmented production still exists in various localities, and it is not easy to shift to large-scale commodity production; the life of a part of farmers is still difficult, especially when facing disadvantages of the market and the weather. Climate change and environmental degradation are becoming complicated, due to the extremes of nature and human practices, which take the heaviest toll on agriculture and rural areas, especially in the Mekong Delta. As a matter of fact, industrialization and urbanization are "sucking" a huge labor force from agriculture and the countryside. In many villages, only the elderly and children remain, causing a shortage of young, skilled and well-trained workers capable of converting to modern agriculture and developing the sustainable rural economy, building new civilized countryside. Farming land in numerous areas has been repurposed to open factories, industrial parks, and urban areas, yet farmers receive few benefits from this process. Village and family culture, the rural lifestyle have altered rapidly, both positively and negatively, affecting the traditional cultural identity in multiple aspects. Plenty of social vices and conflicts in rural areas are worrisome, especially land disputes, lawsuits, "black credit", superstition, "near-religious" phenomena...
The aforementioned upsides and downsides, pushing and resisting forces have posed higher demands and greater challenges to the Party's leadership, the roles and responsibilities of the entire political system, and the promotion of democracy in the countryside. The positives and pushing forces require leadership and management work to be intensified and reformed at a more urgent pace to seize opportunities to promote the rural development, to avoid being out of tune with the general development trend. As for the negatives and resisting forces, there should be breakthrough thinking to unravel knots and bottlenecks, to surmount difficulties and resolve challenges. These are burdensome tasks that necessitate both bravery, responsibility and affection for farmers - a class that contributed the most resources (human, material, land...) to the national liberation revolution, to boost industrialization and modernization, nevertheless incurred losses in the market economy and international integration.
2- Developing "Tam nong" according to innovative thinking must be first liberated from the thoughts and feelings associated with small-scale production that have become inertia, the habit hindering innovation, approach the development level of civilization and modern internationally integrated market economy step by step.
The development of "Tam nong", first of all, requires leaders and managers to approach thinking on a modern market economy, associated with international integration, place agricultural economic development in the overall rural economic development, renew growth models, restructure the economy, accelerate urbanization, connect rural and urban areas, thereby unleashing potentials and strengths of localities in the market economy, founding appropriate local governance institutions, mobilizing resources and generating a drive for development.
Drastically transforming from the mindset on small-scale and fragmented agricultural production to commodity production agriculture along the value chain, applying scientific and technological advancements; forming production organization models based on close association and cooperation among enterprises, households, cooperatives, cooperative groups, taking farmers as the subject and businesses as a significant driving force. In that value chain, enterprises ensures the connection between producers and the market, take responsibilities for the "input", "output", technology transfer, agricultural produce processing associated with formulating strict technical standards; through cooperatives or various forms of association and cooperation, households organize production according to contracts and standards, ensure the right quantity and the most advantageous negotiation to minimize risks and losses for farmers in the face of market fluctuations. Developing the rural economy with close linkage between agricultural and service development, small- and medium-sized industries, cottage industries to change the face of rural areas in the process of building new countryside.
It is vital to shape the motto "local action, global vision" in association with extensive international integration, guaranteeing that the production of each commodity is not separated from the needs of the world market, especially those of "fastidious markets", ensuring safe products, fully meeting strict technical standards.
Free trade agreements (FTAs) open great opportunities for Viet Nam's agriculture to access markets with high added value, however, the challenge is also greater when standards are becoming stricter, not only aimed at satisfying the needs of safety, health and beauty for consumers, but also building a better and civilized world (such as protecting the ecological environment, not fishing illegally and destructively, not abusing child labor, guaranteeing workers' union rights, etc.).
Renovating leadership and management mindset about "Tam nong" in the new conditions not only requires capacity but also emanates from the depth of sentiment towards farmers and responsibility for the countryside. It is true that investment in agriculture has a direct impact on increasing the incomes of farmer households, yet the source of budget revenue for locales is not the same as investment in industrial and service development. Investment in agriculture requires frugality, not only taking into account the question of raising people's incomes but also shifting the labor structure, protecting the living environment, preserving and upholding the national cultural identity...
Industrial and service development needs inviting investment attraction policies with land planning in tandem with preferential tax policies, favorable administrative procedure reform, while agricultural development is far more painstaking and difficult. A number of solutions to the puzzle "Tam nong" are needed at the same time: Renovating the production organization models, ensuring a stable market; shifting livelihood associated with labor restructuring; raising farmers' income associated with enhancing their life quality to approach urban civilization; protecting and contributing to the recreation of the ecological environment; Retaining the national cultural identity in association with reorganizing the lives of individuals, families, hamlets, villages; fostering urbanization and connecting rural - urban areas... It is a career of retraining farmers fraught with difficulties and hardships. Developing "ecological agriculture, modern countryside, civilized farmers" requires a lot of public investment resources distributed throughout all regions of the country. The more disadvantaged areas are, the more demanding it is to set out the high requirements of security, national defense, equality among ethnic groups, the more investment is needed, of which economic efficiency cannot be calculated. If leaders lack understanding about and empathy for the peasant class, who contributed the most to the revolution and suffered greatly in the process of accelerating industrialization and modernization, it will be difficult to shape innovative thinking and develop "Tam nong" since resources for industrialization and urbanization are almost "sucked" from the countryside (human, material, financial, land,...), while environmental pollution is "cast" to the countryside (places where wastewater is discharged, where landfills for industrial and domestic waste in urban areas are built, where cemeteries are constructed...).
Unscrupulous development views sacrificing the interests of farmers and rural areas for industrialization and urbanization, behind which there are always "interest groups" must be excluded. Therefore, the development of "Tam nong" requires both development mindsets and development ethics, both wisdom and conscience, and responsibility from leaders - who must always be devoted to serving the people, love farmers.
That cultural foundation helps leaders to balance between exploiting rural potential strengths and fostering people's power, pay close attention to rural social security; to take business thinking as a motivation for rural economic reform; to establish social economic organizations (such as cooperatives, social policy banks, social enterprises...) or socio-political organizations (such as the Farmers' Association) which play a substantial role in protecting the legitimate rights and interests of farmers, guaranteeing the harmonious rural economic development in the face of the challenges of the market; to develop the economy in line with preserving and promoting village cultural identity, protecting the ecological environment. Industrialization is likely to result in exploiting and mobilizing all rural and farmers for the construction of factories, industrial parks and urban areas, forgetting to foster and regenerate resources from farmers and the countryside. Therefore, in parallel with fostering the industrialization and modernization of agriculture and the countryside, it is essential to focus on vocational training policies, livelihood transfer, allocate benefits obtained from land harmoniously, make farmers the subject of agricultural development, master the process of building new countryside, benefit from land conversion, not being turned into "new tenants" or being marginalized from development. Developing agriculture and rural areas must attach immense importance to building and consolidating new types of cooperatives, cooperative groups to bring together farmers to create strength in negotiation, contract signing and actively participate with businesses in the production organization models according to the value chain, reducing the losses owing to the market mechanism, and thereby contributing to changing the "smallholder" psychology and habits. Protecting and promoting the national cultural identity are major issues of new rural construction, which must be closely linked between preserving and developing decent traditional cultural values ​​and eliminating depraved customs impeding progress and civilization. From leaders to people, they must be deeply aware of the responsibility to protect the ecological environment, for green and sustainable agriculture, for the life quality of rural residents, creating "green belts" for urban areas facing the pressure of "concretizing" and greenhouse effects.
3. The leadership of the Party and the promotion of responsibility of the entire political system plays a decisive role in ensuring successful conversion from the traditional "Tam Nong" concept to the mindset of developing "ecological agriculture, modern countryside, civilized farmers".
The contingent of cadres plays a pivotal role in planning and implementing leadership and management decisions successfully. In rural areas, the role of cadres is even more crucial. Its power is constituted by capabilities and qualities of each individual, collective strength with an appropriate structure in terms of age, gender, profession, ethnicity, in which age and ethnicity structures are particularly important. Encouraging training, nurturing and improving the quality of rural cadres are urgent issues today, including training through schools and practical training on the scene. Planning cadres must guarantee harmony and rationality, thus fostering solidarity and promoting the role and strengths of each individual. For ethnic minority cadres, when developing criteria, there is a need to take specificity into account, such as earlier training, longer training time. Enhancing competition when appointing cadres, yet creating a separate competitive space within ethnic minority cadres. Promoting the rotation of cadres vertically, which means taking cadres from the local to central level to work for a while to grasp the macro policy and then return them to the locality. Ethnic minority cadres are rotated horizontally (among provinces, districts, communes), when implementing the policy of not appointing local people as the party committee secretary of that locale, it is necessary to assign them to other localities that have similar characteristics about ethnic composition, cultural identity, customs and practices. Placing enormous stress on developing party members in rural areas, overcoming the reduction in the number of party members due to their relocation to industrial parks and urban areas for a living. There should be policies to train and use party members, who have completed their military and police service and return to the countryside to reside, as the core for building unions and cadres of grassroots political systems. Training rural cadres must be very practical, effective, appreciating practice, limiting unrealistic long theories.
Rural areas possess very different characteristics about geographical conditions, terrain, hydrology, population, customs and practices, thus they must be strongly decentralized, creating enough room for promoting the right to autonomy in establishing local policies and innovating local governance. In the context of market economy, there is a need to pay attention to decentralization, and market signals as a critical basis to make leadership management decisions, ensuring flexibility, proactivity and adaptation to the situation. In particular, mountainous and ethnic minority areas, remote islands need to carry out sufficient decentralization to solve specific problems arising in the area. Apart from that, it is essential to strengthen inspection, supervision, correct deviant manifestations, violations, fight against partiality, division, arbitrariness in a "imperial power bends to suit rural customs" way. Recently, the Party and the State have boldly implemented decentralization, nevertheless the inspection stages are not commensurate, leading to many wrongdoings that need to be disciplined and criminally convicted, hence the losses of cadres. Together with strengthening inspection and examination work of the central level over the local one, there is a need to increase the effectiveness of internal self-inspection; the provincial level vs the district level; the district level vs the commune level, to strictly handle violations to alert, deter, combat arbitrary and local manifestations, corruption, negativity.
Combining laws and customary laws, scientific knowledge and local one in rural society management is striking features that needs to be focused. Absolutizing customary laws can easily lead to arbitrariness, diverging from laws, but not attaching importance to customary laws makes laws difficult to come to life. Rural cadres mastering the customs not only serve mass mobilization effectively, but also plan local policies with people's support and agreement. Also, it is important to combine scientific and technological applications, promoting the role of local knowledge in all fields such as natural resource management, the environment, production organization and social management methods,...Local knowledge is generally formed from the living environment, labor, production, tested through various generations, preserved and passed down through memory and practice, so it is suitable for the diverse reality of each ethnic group and region. That some policies have proven ineffective when implemented in rural areas and ethnic minority areas is deeply rooted in the lack of understanding about local knowledge, rigidly imposing general policies on each specific locality. Products under the "One Commune One Product Program" (OCOP) are of high values when sold in the market, which is profoundly the crystallization of indigenous resource values ​​and local knowledge. It is local knowledge that creates unique products for tourism, affirming the diversity of regional, ethnic and local cultural identities. Indigenous resources and local knowledge create unique products, thereby providing outstanding values when commercialized in the market.
For rural areas, it is necessary to focus on heightening the responsibility of the leader, first of all, the responsibility to set examples. Setting fine examples is also highly appreciated anywhere, yet in rural areas, it is even more important when farmers value doing more than talking, practice more than theory. Therefore, it is essential to reform the party and state administration vigorously in the countryside, overcome the disease of lengthy documents that make them difficult for lower-level cadres to interpret and become tired of "reporting". They must be concise, easy to remember, and summarized into the motto of "clear tasks, clear people, clear addresses, clear ways of doing, and clear products". In particular, leaders must be really exemplary so that they can convince their subordinates and the masses to follow. Urgently perfecting the theory of local leadership and governance; developing framework regulations for localities to shape their own specific leadership and management methods; developing codes of conduct among cadres, subordinates, and people, publicized on the mass media, including collecting opinions on people's satisfaction level with the leader, especially cadres of the rural grassroots political system.
4- Promoting democracy, building a rural solidarity bloc, strengthening the close relationship between the Party and the people starting from addressing the practical issues of people's lives, developing the countryside, promptly detecting, preventing, handling potential factors posing the risks of rural social conflicts early, from the root, from afar.
Promoting democracy and building a great rural unity bloc are based on a shared goal that is to join hands to build ecological agriculture, modern countryside, and civilized farmers. This is gravitating towards production according to the value chain, improving farmers' lives; developing modern countryside rich in national cultural identity. Disseminating, educating, organizing, and mobilizing farmers to shift radically from traditional agriculture to ecological one, accessing the market according to the value chain, "green" and safe production closely linked with businesses. Solidarity and democracy must be on the foundation of constantly enhancing the material and spiritual life of rural inhabitants. Building a team of new generation farmers who can adapt rapidly to a modern market economy. Building modern civilized farmers and rural areas on the basis of inheriting outstanding traditional values ​​and refining, eliminating the customs weighing on farmers, from eating, living, hygiene, funeral and wedding rituals, family and village organization, associated with the campaign "All people unite to build cultural life in residential areas".
Focusing on leading, directing and ensuring resources to solve urgent issues on developing agriculture, farmers and rural areas. Investing in modernization, raising the quality of education from preschool to highschool level, vocational training, ensuring access to the level of urban areas, including facilities, raising-teaching conditions and the quality of teachers, especially making a breakthrough in developing preschool and elementary education. Encouraging human resource training for rural areas to ensure sustainable development, overcoming the dearth of skilled and knowledgeable workers serving economic development and rural society management. Strengthening the role of credit institutions with traditions of closeness, understanding and sharing with practical conditions of farmers and rural areas (Bank for Agriculture and Rural Development of Vietnam, Main Bank Social books, people's credit funds) to ensure funding sources for rural areas, pushing back "black credit". Developing models of agricultural produce auction center to stabilise agricultural prices, offering the highest benefits to farmers. Continuing to support the poor, low -income people who buy health insurance, expanding the scope of universal health insurance coverage. Paying attention to upgrading grassroots and community health facilities, associated with building a team of community doctors adequately in quantity and quality, aiming to manage health records of each individual and families, associated with household medicine development and digital conversion. Delivering free newspapers to some village cultural houses; Installing free internet routers in rural public spaces. Innovating mechanisms associated with creating resources to ensure agricultural insurance expansion, researching pension models for farmers.
The role of farmers in agricultural and rural development is only guaranteed when the subject capacity is raised, including personal capacity (knowledge, culture, science and technology...) and organizational capacity through legal entities, forms of cooperation (such as cooperatives, cooperative alliances, associations of industries and occupations, Farmers' Union...), creating collective and community strength. If each household exists separately, it will find it difficult to respond to challenges and take advantage of development opportunities in modern internationally-integrated market economy. Building class relations in rural areas towards creating a solid foundation for strengthening the political system and leading people to reinforce their mastery. Focusing on sustainable poverty reduction, and investing in developing typical and dominant factors with business capacity, community spirit, as well as rural leadership traits including training, fostering and planning as secretary of local party committee. These are a team of new generation farmers or typical rural business households. Attracting well -trained students enthusiastic about farming to return to rural areas to start up with preferential loan mechanisms, creating farming land funds, applying science and technology in combination with promoting local knowledge values, and thereby creating sources of cadres for the grassroots political system. Prioritizing the development of schools training practicing engineers in the fields of agriculture, forestry and fisheries, which must spend from 30% to 40% of the training time building projects and carrying them out to train professional farmers (the projects must identify land funds, the mechanism for obtaining them, production organization models, input and output products, applied technology, the market, the supply chain, human resources, labor, providers of capital, guarantee organizations... and undertaking those projects).
Perfecting the grassroots political system in association with boosting the efficiency of democratic practices in the activities of party committees and authorities. Reinforcing and strengthening the role of the Fatherland Front, socio-political organizations and community organizations in building new rural areas and rural solidarity bloc. Increasing the capacity and proactively taking part in the Farmers' Union in practical issues of the peasantry; innovating, strengthening the alliance of workers - farmers - intellects and expanding effective cooperation with entrepreneurs. Following the Regulations on Democracy at the grassroots level, especially publicity, transparency, accountability, timely settlement of complaints and denunciations, and effective mass mobilization. Exploiting the values of customary laws and local knowledge in rural social management properly, combining the state administrative management mechanism with the self-governance one of the community in association with promoting the role of village elders and prestigious figures. Improving the quality of activities of grassroots party organizations in areas with a large number of religious compatriots, ethnic minority areas, remote and isolated areas, and revolutionary bases. Focusing on the capacity of the Bank for Social Policies to participate in rural development in association with practical and specific action programs and occupations. Consolidating and replicating the models of cultural assembly halls and institutions in the village, combining political activities with sharing experience in community management, business experience, and cultural activities. Renewing the form and content of party branch activities; enforcing the Party's guidelines in the residential community, ensuring simplicity and closeness to the immediate needs of the people; expanding the unification of party branch secretary and village chief. Union branches and clubs of socio-political organizations (Youth Union, Women's Union, Farmers' Union, Veteran's Union) in rural areas need to operate according to the community mechanism, appealing enough to attract union members, members to solve urgent problems posed in the community, such as poverty reduction, legitimate enrichment, livelihood transfer, vocational training, gender equality, children upbringing, preventing and combating social evils, eliminating obsolete customs, building a new cultural life, maintaining security and order in villages...
Detecting and preventing potential elements causing rural instability early, from afar and from the root, based on the role of the community in combination with the participation of the political system and core functional forces, especially in hotspots of land disputes, "black credit", environmental pollution, areas with a large number of religious compatriots and ethnic minorities, etc.. which are instigated by evil forces. Paying special attention to improving the operational effectiveness of the grassroots political system in areas where a lot of complex problems arise, becoming "hot spots", including deploying high-level cadres to those areas for a certain period of time. Reviewing and evaluating the effectiveness of merging communes, placing it in connection with the district-level restructuring. Combining the role of the commune-level police forces with self-management in maintaining security and order in villages, ensuring a favorable environment for socio-economic recovery and development in the conditions that require safe and flexible response to control the COVID-19 pandemic effectively.
This article was published in the Communist Review No. 986 (March 2022)