Deputy Minister of Science and Technology
Monday, February 13, 2023 09:04
Communist Review - Viet Nam is comprehensively promoting and enhancing the efficiency of international cooperation, especially in the fields of science, technology and innovation. This is one of the core solutions proposed by the 13th National Congress of the Communist Party of Viet Nam to realize its targets and aspirations to develop the country.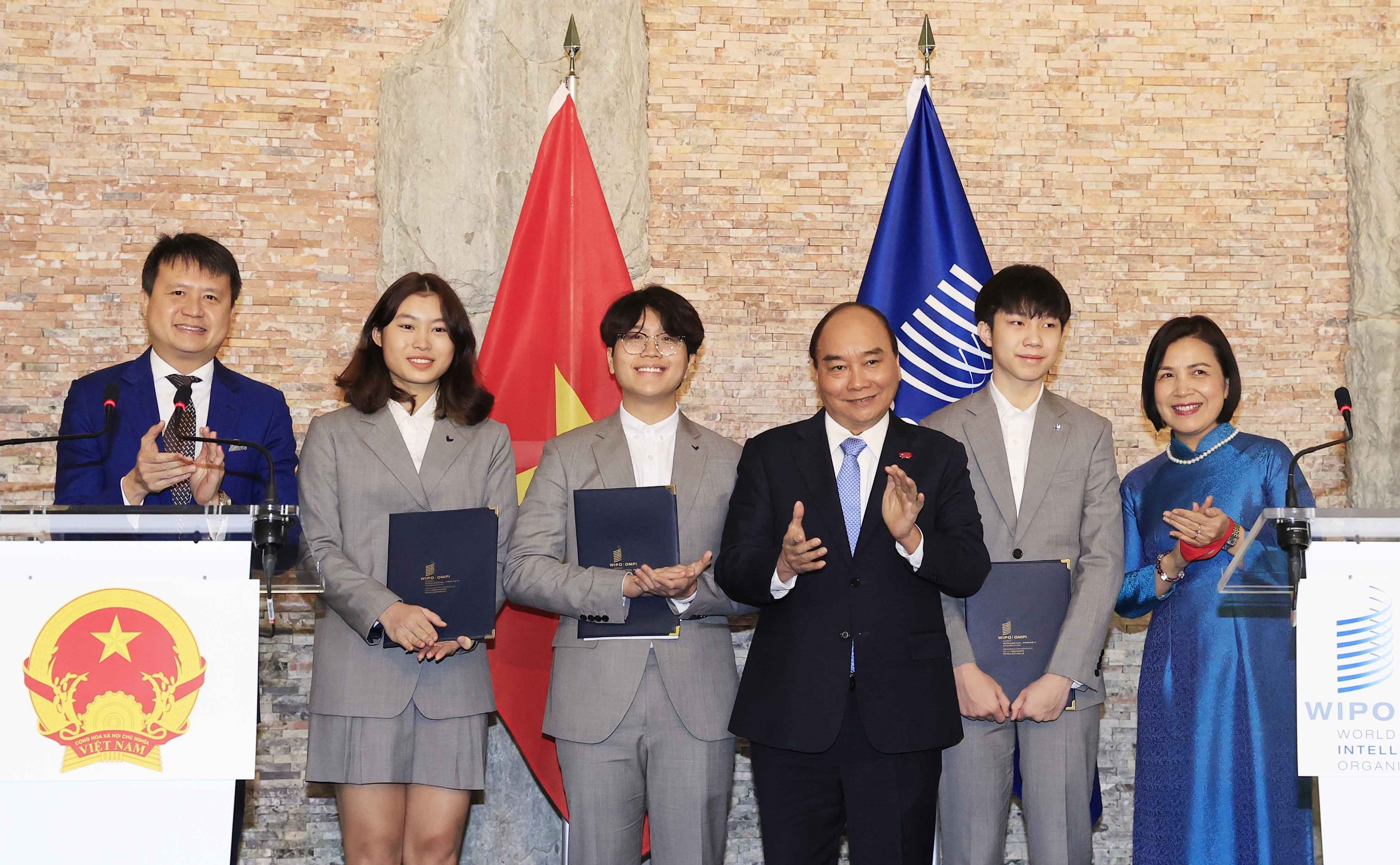 1- In every stage of national socio-economic development, science-technology has always been regarded as the key element, momentum, foundation and leading national policy. This field plays a pivotal role in developing modern productive forces, protecting natural resources and environment, and improving productivity, quality, efficiency, development speed and competitiveness of the economy. Accordingly, the increasing attention on this matter has contributed to raising the capacity of domestic research in accordance with international standards, shortening the technological gap with the world, improving technical infrastructure and strengthening science-technology potential for Viet nam. Therefore, international cooperation can be seen as a crucial channel, combined with domestic resources, to successfully implement national goals and policies. At the same time, it is a component of the country's diplomatic activities in the context that science-technology has been chosen as the core of various comprehensive cooperation agreements and strategic partnership agreements between Viet Nam and a number of countries.
During the period of economic hardships prior to the last 90s, thanks to international cooperation in science and technology, Viet Nam managed to call for the support of foreign countries in terms of equipment, technical staff and experts training, building facilities for research, and thereby creating an important premise for the future development of science and technology. Through diversifying and multilateralizing relations, expanding fields of cooperation from basic to applied research, technology transfer, seminars, training, and technology demonstrations, Viet Nam has been overcoming the shortage of scientific and technological resources following the collapse of the Soviet Union and the socialist countries of Eastern Europe; thereby, strengthening technical facilities for science and technology organizations, improving staff qualifications, promoting domestic science and technology, reaching closer to international integration.
Since 2000, international cooperation in science-technology has been continuously focused in the national strategy of science-technology development. The Party has issued numerous documents related to this matter, including Resolution No. 20-NQ/TW, of the 6th Plenum of the 11th Central Committee, dated November 1, 2012, titled "On the development of science and technology for the cause of industrialization and modernization in the context of the socialist-oriented market economy and international integration" (referred to as Resolution No. 20-NQ/TW). The Resolution sets out the viewpoints, goals and tasks for international cooperation in science and technology, specifying the need for proactive and active international integration to achieve up-to-date knowledge about advanced science and technology in the world, attracting resources and experts, encouraging overseas Vietnamese and foreigners to participate in Viet Nam's science-technology projects. Furthermore, the Resolution encourages and creates favorable conditions for students, doctoral students, and interns to return to Viet Nam after abroad training; implements national scientific-technological cooperation with advanced countries in science-technology, which are strategic partners of Viet Nam; has mechanisms and preferential policies on investment, land, infrastructure, administrative procedures to create breakthroughs in attracting overseas Vietnamese scientists and technologists to work in Viet Nam.
Viet Nam's first Law on Science and Technology, passed by the National Assembly in 2000, dedicated a chapter to International Cooperation (Chapter V). The 2013 Law on Science and Technology continues to save Chapter VIII to regulate international integration in science and technology. The Law on Intellectual Property, the Law on Technology Transfer, and the Law on High Technology all include regulations on international cooperation and various types of activities related to international cooperation. Not only issuing a number of decisions approving science-technology projects and programs that emphasize the importance of international cooperation(1), the Prime Minister also approved and implemented two programs that focus on utilizing the strengths of international cooperation in science and technology, namely the Bilateral and Multilateral Research Cooperation Program in Science and Technology to 2020 and the Foreign Technology Transfer and Search Program to 2020. Some national target programs, such as the National Product Development Program, the National Technology Innovation Program, and the International High-Tech Development Program, also emphasize the importance of international cooperation activities, including training human resources according to international standards, seeking foreign valuable technological knowledge, exploring and mastering technology step by step, and investigating and searching international markets for national products. International cooperation is one of the important solutions for the successful implementation of these programs with the goal of training, improving the capacity and qualifications of the domestic experts, taking advantage of international cooperation to strengthen product testing quality, and signing bilateral agreements of mutual recognition.
The innovative financial mechanism has helped create an open and proactive corridor for international cooperation in science and technology, aiming to utilize foreign capital and advanced scientific and technological knowledge to strengthen domestic science and technology capacity and establish a number of key industries. The innovations range from tax incentives(2) to providing direct capital to attract foreign partners to invest in science and technology development in Viet Nam. Since 2000, Viet Nam has allocated the budget for science and technology to carry out joint research cooperation projects with foreign partners. Vietnamese universities, research institutes and enterprises are partially funded to carry out cooperation projects in scientific research, technology development or completion with foreign partners. This approach has attracted the joint investment of foreign partners to fulfill their cooperation commitments with Viet Nam (on average, in the 2000-2020 period, one invested Vietnamese dong would attract nearly 4 dongs of capital from foreign partners in return, for joint research projects and technology transfer). In addition, Viet Nam maintains a policy of annual payment for international scientific and technological organizations of which Viet Nam is a member.
Hitherto, Viet Nam has established cooperation ties in science and technology with nearly 70 countries, territories and international organizations; more than 150 international treaties (government level) and more than 80 international agreements (ministerial level) have been signed, of which nearly 110 international treaties and 40 international agreements are still in force. The Ministry of Science and Technology assumes the role of the focal agency for the implementation of treaties, international agreements and multilateral cooperation with many important regional and international organizations and forums, such as Association of Southeast Asian Nations (ASEAN), Asia-Pacific Economic Cooperation (APEC), World Intellectual Property Organization (WIPO), International Atomic Energy Agency (IAEA) , United Nations Committee on the Peaceful Uses of Outer Space (COPUOS), Asia-Pacific Regional Space Agency Forum (APRSAF), Asian Productivity Organization (APO), United Nations Educational, Scientific and Cultural Organization (UNESCO), etc. through various bilateral and multilateral international cooperation activities.
As can be seen, international cooperation in science and technology has made an important contribution to raising the capacity of domestic research according to international standards, attracting the transfer and mastering of advanced technologies from abroad, shortening the technological gap with the world, improving the technical infrastructure and enhancing the scientific and technological potential for Viet Nam.
However, the world is changing rapidly due to the powerful impact of the Fourth Industrial Revolution. Breakthroughs in the fields of biotechnology, automation, robotics, quantum computing, artificial intelligence, big data, digital transformation, space conquest technology, space science, etc. have been reshaping the progress of humanity, leading to a change in the growth patterns of countries, especially the connections between governments worldwide. In that context, innovation has emerged as a global trend, accompanied by a massive flow of scientific and technological knowledge to every corner of life. Therefore, international cooperation in science-technology needs to be viewed more holistically and strategically in order to proactively "open up" sources of knowledge and advanced technology to flow into the country, improving the capacity to absorb new knowledge and modern imported technologies, bringing domestic science and technology closer to the world; at the same time, preventing outdated imported technology, ensuring national technology security and making Viet Nam a responsible member of the world's science-technology community.
2- Currently, a number of global trends that influence Viet Nam's international cooperation in science and technology can be named as follows:
Firstly, the world continues to increase spending on research and development. Although the global economy is facing financial difficulties (especially due to the heavy consequences of the COVID-19 pandemic), the total global investment in science and technology has not been significantly affected. The growth rate of investment in science and technology is still faster than that of global GDP. The general trend is that most countries continue to increase investment in research and development owing to the awareness of the role of science and technology in sustainable development.
Secondly, the development and competition for human resources in high-quality science and technology are becoming increasingly intense. Countries should formulate appropriate policies to attract and retain qualified citizens in their countries, including the influx of international students and scientists.
Thirdly, the world is maintaining a greater focus on the promotion of innovation. The role of the private sector is increasing in the global development and dissemination of scientific and technological knowledge. Therefore, countries are moving towards the reliance on innovation capacity in enterprises to promote national competitiveness on a global scale.
Fourthly, international cooperation in science and technology has become an increasingly mainstream and inevitable trend, although competition still exists in all sectors, including economy, security, defence, health, environment, energy, education, etc. The new growth model always takes technology as one of the core factors for economic growth. The knowledge accumulated from the country's research and development will increase the economy's production capacity, boost the value of gray matter for society and create a spillover effect, improving the production capacity for other countries using that knowledge. Therefore, governments need to intensify cooperation to harness technology's spillover opportunities.
Fifthly, forms and subjects of global international cooperation in science and technology are increasingly diverse, including cooperating in scientific research and technology development, co-authoring books or articles published in international scientific journals, attending international conferences/seminars, participating in large interdisciplinary projects with outstanding scientists, establishing research and development centres in partner countries, granting research scholarships, promoting cross-border exchanges of science-technology community, etc. Universities increasingly have a central position in international cooperation in science and technology because of their potential in human resources, finance and links with technology enterprises worldwide. Enterprises have and will continue to become indispensable parts of technology transfer, supporting host countries to develop scientific and technological potentials, searching, training and recruiting qualified human resources in host countries, and cooperating with universities to implement technology pilot projects. Non-governmental organizations and non-profit funds are increasingly sponsoring or promoting international cooperation in science and technology. The community of patriotic overseas scientists and technologists, including capable experts, is increasing cooperation with domestic specialists to promote knowledge and technology transfer activities.
Sixthly, scientific and technological projects on regional and global scales are being planned worldwide to collectively solve global challenges that significantly affect the existence and development of human beings, such as epidemics, climate change, environment, food, and energy security. Besides, the current trend is that local and endogenous knowledge will become part of the global knowledge system. No country can play the sole role of a knowledge user but needs to be responsible for creating new knowledge for its own development and humanity.
3- In the current context of intensive international integration, to consolidate international cooperation in science-technology, the following issues should be taken into consideration in the coming time:
Regarding policies and guidelines: International cooperation in science-technology needs to be integrated into national diplomacy, constructing a synergistic channel, along with economic diplomacy, security, culture and education to attract advanced knowledge and technology to Viet Nam effectively. In the 2020-2030 period, it is necessary to develop a foreign policy on science-technology, making science-technology a pillar in international treaties and cooperation documents with strategic or comprehensive partners of Viet Nam. Specifically, some contents of science-technology cooperation need to be integrated into international treaties on economic cooperation and bilateral and multilateral free trade areas, such as research and development services, investment attraction for research and development, and technology transfer. Furthermore, signing new-generation science-technology cooperation agreements, which integrate technology transfer, intellectual property protection, agreement on mutual recognition of standards, measurement and quality of goods, and mechanisms to encourage Vietnamese enterprises and partners to cooperate in development and technology transfer, should be taken into account.
Regarding action: The following task groups should be prioritized:
Firstly, attracting foreign investment of various forms for science and technology development in Viet Nam, including official development assistance (ODA) capital for science and technology projects (innovating technology, promoting innovation capacity in enterprises), foreign direct investment (FDI) enterprises with high science-technology reputation, and foreign technology start-ups, making Viet Nam an attractive place for these enterprises to start business. Moreover, high-tech venture capital funds will be called for investment in domestic technology enterprises, thereby increasing the quality of foreign investment capital flows, building groups of new technology enterprises, and developing supporting industries. Additionally, improving research and development capacity for domestic research institutes/universities will be considered, along with building a number of technology enterprises capable of reaching out to the world market.
Secondly, attracting high-tech and advanced source technology from abroad by encouraging multinational corporations to establish research and development centers in Viet Nam or investing in laboratories and innovation centers in national universities/research institutes; importing advanced foreign technologies, which later are decoded, mastered and integrated into the domestic production process; searching and identifying technology for the exchange of technological know-how and patents or investment in perfecting foreign technologies from domestic budgets; conducting technology development cooperation activities between domestic research institutes/universities and enterprises and foreign partners; attracting modern and new technologies to be demonstrated, introduced and promoted in Viet Nam, turning Viet Nam into a world-renowned destination for technology demonstration events, such as aviation - aerospace, innovative technology, and robots exhibitions. Thereby, international relations are not only expanded but advanced technology is also transferred and mastered in Viet Nam, enhancing the technology absorption capacity and competitiveness of Vietnamese enterprises.
Thirdly, attracting international scientific and technological brains to Viet Nam, especially overseas Vietnamese scientists and technologists; attracting foreign universities/research institutes/technology enterprises with leading experts to establish research and development institutions in Viet Nam; encouraging Vietnamese scientists and technologists to work and conduct research temporarily in laboratories and take post-graduate training at advanced technology universities to acquire modern science, technology and engineering; attracting excellent international science experts to Viet Nam for international science-technology events. These tasks, thereby, help strengthen Vietnamese scientists' research capacity, increase their number of international publications, raising the capacity of national science-technology to international standards, intensifying the connection of Vietnamese scientists and technologists to the global scientific network, creating spillover effects for domestic science-technology activities.
Fourthly, exporting Vietnamese gray matter to the international market through sending abroad experts in the scientific-technological fields where Viet Nam has been approaching world-class (healthcare, agriculture, biotechnology, basic science), exporting research and development services, transferring technology, or exporting technological or competitive goods made in Viet Nam, thereby expanding the market for Vietnamese gray matter and technical goods, in addition to other goods and services.
Fifthly, playing an active and responsible role in regional and global science-technology activities. Viet Nam needs to promote financial contribution and encourage Vietnamese experts to actively and proactively participate in prestigious international organizations for science-technology, community-oriented international programs/projects (energy security, food security, climate change response, disease control), major international scientific-technological programs/projects in space, weather, basic science, etc., thereby contributing to enhancing the external image of Viet Nam - a responsible country of the international community, which raises an active voice in multilateral international forums on science-technology and has the technological ability to deal with a number of problems on regional and global scales.
-----------------------------------------
(1) As Decision No. 735/QD-TTg of the Prime Minister, dated May 18, 2011, approving the Project of international integration in science-technology to 2020; Decision No. 40/QD-TTg of the Prime Minister, dated January 7, 2016, approving the Overall strategy for international integration through 2020, vision to 2030.
(2) High technology, modern techniques, environmental protection, and investment in research and development are the priorities of Viet Nam in encouraging foreign investors; exempting from import tax to create fixed assets for imported goods related to equipment and machinery in the technological line; exempting from import tax on goods applicable to technology substitution and innovation; exempting from import tax on goods directly used in scientific research and technological development, including technologies that cannot be created domestically; reducing corporate income tax on expenses for technological innovation, scientific research and technology development, costs of purchasing patents, technology licenses, etc.
This article was published in the Communist Review No. 995 (August 2022)