Deputy Editor-in-Chief of Communist Review
Tuesday, June 6, 2023 09:42
Communist Review - In recent years, dissemination and public opinion orientation in cyberspace have experienced advantages and disadvantages, requiring synchronous solutions with strategic steps.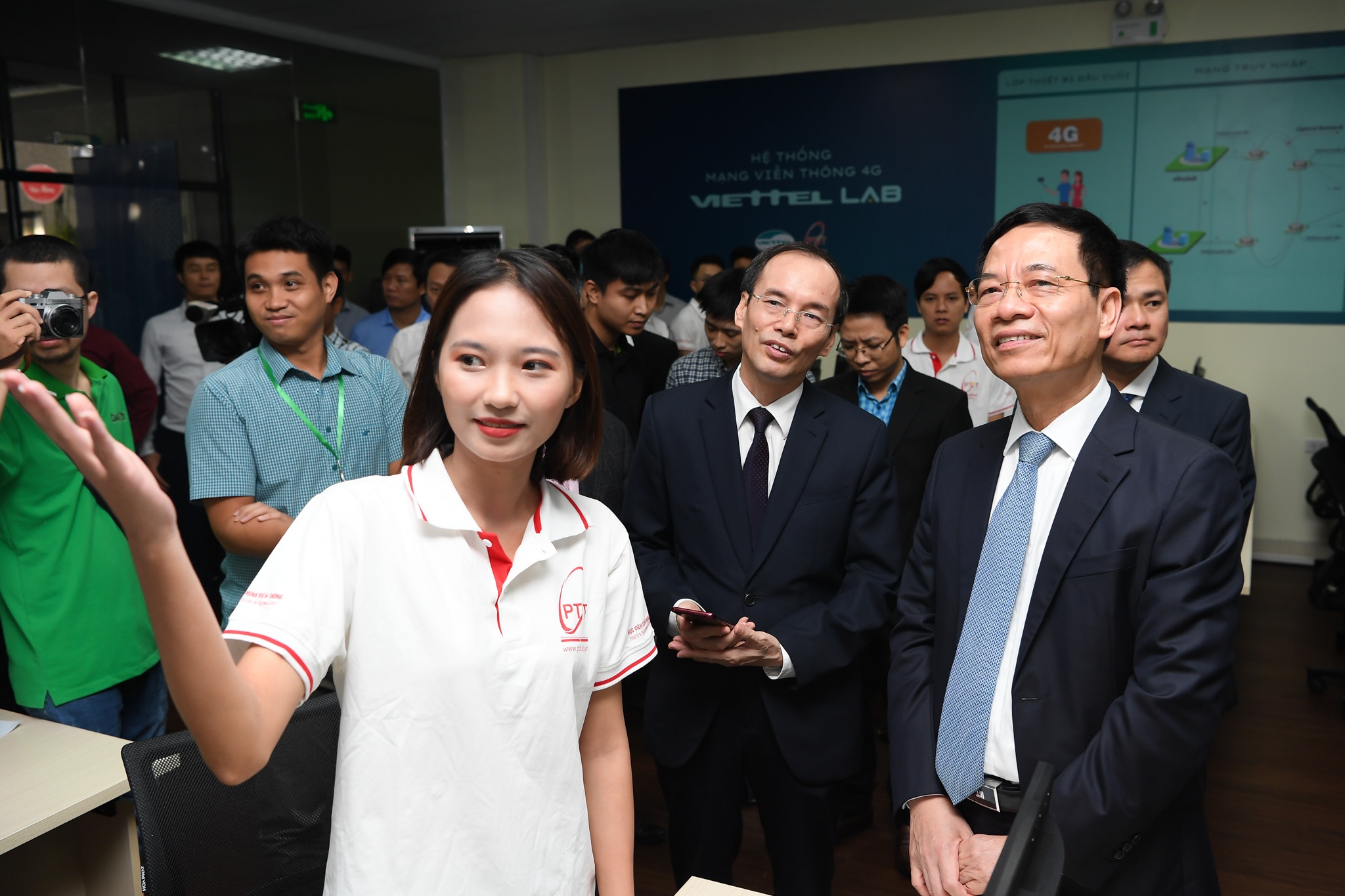 The non-stop development of information technology and internet applications has created a new strategic space called "cyberspace", bringing various growth opportunities as well as challenges across social spheres within nations. In Viet Nam, dissemination and public opinion orientation are considered one of the first areas affected by cyberspace.
The Resolution of the 13th National Congress of the Communist Party of Viet Nam emphasized: "enhancing quality, ensuring security and safety of information, press, internet, publishing systems, strengthening the management capacity of cyberspace, and establishing robust key press agencies and media complexes that can effectively disseminate information and lead the way on the information front" (1). Aware of the importance of cyberspace for the ideological, cultural and moral life of the people, especially the young generation, on March 5, 2022, the Prime Minister issued Decision No. 311/QĐ-TTg, approving the educational program on revolutionary ideals, morality, lifestyle and culture for young people in cyberspace from 2022 through 2030.
The role of cyberspace in cultural and ideological aspects of life in present-day Viet Nam
Firstly, cyberspace plays an important role in creating the country's dominant ideology.
In recent years, Viet Nam's Party and State have permanently attached great importance to the development of the internet, thereby formulating guidelines, policies and laws to properly handle the relationship between security and development, democracy and discipline, leading to remarkable progress in advancing cyberspace.
As of January 2022, Viet Nam has 72.1 million internet users, representing 73.2% of the nation's population, indicating a rise of 4.9% from 2021. Social media users have reached 76.95 million, accounting for 78.1% of the overall population, which has increased by 6.9% compared to the previous year. The percentage of mobile subscribers using smartphones in Viet Nam is 94.6%, exceeding the global average. On average, an individual spends 6 hours and 38 minutes using the internet daily, with 3 hours and 32 minutes from mobile phones, 3 hours and 06 minutes from other devices, and 2 hours and 28 minutes on social media. In order the most used social media in Viet Nam are Facebook, Zalo, Messenger, Tiktok, Instagram, Twitter, Telegram, and Pinterest; Facebook alone has 70.4 million users (2). This shows that cyberspace has gained significant popularity among the majority of Vietnamese people for social communication.
Cyberspace is also considered a massive "public opinion space" where information of various forms is an invisible string linking all participants. In terms of quantity, no other organization or community has as many members as the online community. Regarding the audience, no other organization or community has a diverse audience like cyberspace because anyone can participate, regardless of gender, age, occupation, ethnicity, or nationality. As regards nature, no "playground" has a level of freedom for each individual to fully express their views, stance, and personality, like in cyberspace. From a political point of view, cyberspace is an ideal platform for individuals to carry out ideological struggles and communication strategies through activities such as disseminating, creating and shaping public opinion. Cyberspace makes the complexities on the ideological front more prominent and increasingly unpredictable. It is, therefore, essential for each country to understand the ideological landscape of cyberspace in order to protect their sovereignty and political strength.
Viet Nam is currently prioritizing the implementation of mainstream ideology through cyberspace. It is necessary to turn cyberspace into a "fertile ground" to cultivate the good ideological "seeds" of humanism, progress and peace. The country's primary ideology should be developed through the active use, utilization, and promotion of cyberspace, which will contribute to building a robust and prosperous Viet Nam.
Secondly, cyberspace contributes to promoting cultural and ideological growth.
Nowadays, cyberspace has become the hub for the distribution of information. The exchange and integration of diverse ideological flows and cultural values ​​not only enrich ideological and cultural life and broadens horizons but also promote the cultivation of personality and the enhancement of human intelligence. Moreover, cyberspace is a major platform for sharing information and shaping public opinion. With billions of users exchanging information, it dramatically impacts their way of seeking knowledge, thinking, and viewing life and social activities, especially among young people. Therefore, in order to build a country with a truly healthy, active, safe and developed cyberspace, we must have a solid ideological foundation and a vibrant culture. Only then will we be able to resist and combat misinformation, falsehoods, distorted and reactionary thoughts, or manifestations of cultural decadence being spread and disseminated in cyberspace, causing confusion and distrust among the masses, weakening the mainstream culture and ideology, altering traditional values, culture, beliefs and history of the nation.
Thirdly, cyberspace affects people's interests and society's stability and development.
Regarding government management, cyberspace offers increased flexibility in state management activities and the mobility of the national security system. However, along with these benefits, cyberspace faces enormous potential risks: 1- The risk of undermining the state management function; 2- The threat of disrupting and disabling vital national security systems; 3- The danger of reorienting social consciousness (3).
In fact, in 2021 alone, the damage caused by cybercrime worldwide is estimated at an average of 102.3 million USD per month. In Viet Nam, high-tech criminals continually attempt to breach the critical information systems of national security, transportation, finance, banking, and other sectors, resulting in severe consequences such as stealing secret state documents and customer data. According to the Department of Cybersecurity and High-Tech Crime Prevention and Control under the Ministry of Public Security, in the first five months of 2022, the Ministry of Public Security detected and analyzed over 8 million warnings and signs of network attacks, confirmed and handled nearly 400 cyber-attacks on domestic websites and portals, identified almost 1,000 IP exploited addresses in the country, infected with malicious code, and located in hackers' "ghost" computer networks. Additionally, 840 specialized projects and cases related to cybercrime and high-tech crimes were detected and handled, which increased by 42% compared to the last six months of 2021 (4).
Cyberspace is the common "house" for the online community, which has a significant impact on its members. Although cyberspace is a virtual environment, the individuals using it are real. Thus, there is a need for international and national legal regulations which clarify the rights and obligations of the parties involved to guarantee a secure and healthy online atmosphere.
Fourthly, cyberspace represents a critical arena for the ideological battle to safeguard the Party's ideological basis in modern times.
The fast-paced advancements in information technology and the internet have significantly transformed how public opinion is formed, spread, and controlled. Numerous new situations and issues related to ideology emerge and escalate in cyberspace; misguided, hostile, reactionary, and extremist beliefs are also created and "fermented" in this online environment.
In Viet Nam, domestic and foreign adversaries are actively leveraging cyberspace to damage the country's reputation and diminish its standing in the global community, along with its political system. They have ramped up their efforts to undermine the Communist Party of Viet Nam and its socialist ideology by smearing the leaders of the Party and the State, spreading hostile ideas, and inciting hatred, discontent, and conflicts. Over the past few years, there has been a surge in cyber-attacks aimed at disturbing and sabotaging both traditional and non-traditional security measures in cyberspace, using highly advanced, dangerous, and damaging tactics. These activities include disseminating fabricated and negative news stories that create social unrest, particularly within the ideological and political spheres of society, affecting people from all strata. Viet Nam has consistently been ranked among the top 3 countries with the highest number of cyber-attacks in 2018, 2019, and 2020, and also had the highest incidence of ransomware attacks in the Asia-Pacific region in 2019 (5). In recent times, more than 3,000 websites, blogs, and social media accounts, along with almost 100 Facebook associations and groups in Viet Nam, have been spreading information that is critical of the Party and the State, creating disruptions in security and order, inciting riots and demonstrations, and even attempting to instigate a "colour revolution" or "street revolution", thereby creating social disturbances and undermining national ideological and political security. (6).
Cyberspace has now been recognized as the fifth essential territory of a country, alongside its mainland, islands, waters, and airspace (7). If cyber security is not ensured, national security will be compromised, and the safety of cyberspace is directly linked to a country's ideological and political security. Therefore, to protect national security early and from afar, ensuring cyber security should be a priority. In particular, activities such as information dissemination and fighting against false and hostile forces that distort the truth and oppose the Party and State must be considered the primary focus of ideological struggle in cyberspace today.
Requirements for dissemination and orientation of public opinion in cyberspace in today's world
Regarding the overall requirements for disseminating information and shaping public opinion in cyberspace, it's crucial to maintain a clear stance that aligns with the political line, correct dissemination and value orientations, while upholding the leadership of the Party and State management. The primary focus should be on supporting the country's development, preserving national unity, and enhancing people's spiritual well-being. Additionally, it's essential to strengthen dialogue and effectively counter false and malicious claims made by hostile forces that aim to undermine our nation.
Concerning specific requirements, information dissemination and public opinion orientation in cyberspace need to comply with the following guidelines:
Firstly, adhering to the Party's comprehensive leadership over all aspects of ideological work, including dissemination activities.
This is an essential prerequisite to maintain the Party's comprehensive leadership role over the State and society. As such, even as the media landscape evolves and transforms, the Party's leadership role, as well as its leadership principles for information dissemination work will remain unchanged.
In the realms of politics, it's crucial to prioritize the Party's political line and consistently apply the journalistic-media viewpoint of Marxism-Leninism and Ho Chi Minh's thought. This includes actively promoting the dissemination and public opinion orientation, unifying the "Party's will" with the "heart of the people," and translating the Party's viewpoints, guidelines, and lines into conscious actions of the people. Additionally, media agencies must promptly report on the country's socio-economic reality and enrich people's spiritual lives. By playing a leading role in disseminating the Party's guidelines and recording changes of the times, media agencies can promote social progress and monitor social justice.
Secondly, adhering to the Party's correct guidance for shaping public opinion.
Orientation is a crucial aspect of guiding public opinion. History and practice have shown that the power of public opinion should not be underestimated, especially in the current era of exponential growth of cyberspace. Social public opinion can serve as a "land" to foster good ideas, a "catalyst" for social morality, a "bond" to connect communities, and a "springboard" for development. On the other hand, public opinion can act as a double-edged sword that has the power to hinder one's spiritual life and can also serve as a platform for social unrest that may eventually escalate into chaos. It can function as a gathering place for protests, riots, subversion, "color revolutions", and "street revolutions" orchestrated by opposing forces. In fact, demonstrations and "color revolutions" that occurred in some regions like France, Eastern Europe, and North Africa in recent years were initially instigated and mobilized through social networks, where they quickly spread. Social media has acted as the "organizational leader" of most political movements without a specific leader.
Hence, public opinion on the internet must be guided under the Party's correct leadership and serve the purpose of advancing the nation's growth and development, promoting unity and maintaining social stability. This applies to all forms of media, including both traditional and new media, be it news or entertainment programs. It is strictly prohibited to use any platform to disseminate misleading or false and malicious information that could disrupt public opinion and cause harm to society. This rule applies to both central and local media agencies.
Thirdly, persistently maintaining the goal of solidarity and socio-political stability while promoting the active involvement of the masses in information dissemination and public opinion orientation in accordance with the Party's guidelines and policies.
The main focus should be on promoting social solidarity, fostering consensus, and maintaining socio-political stability. Additionally, the media should reflect the positive and healthy aspects of society and objectively portray the overall progress and development in various aspects of the country's socio-economic life.
To effectively carry out information dissemination and public opinion orientation, it is crucial to have a comprehensive understanding of mainstream thought and positive public opinion. Overwhelming the audience with one-sided or excessively negative information, focusing solely on the negative aspects of society and providing inadequate coverage of positive news, good examples, and virtuous deeds can lead to fatigue, demoralization, and a loss of trust in public opinion.
Fourthly, attaching importance to information dissemination and public opinion orientation innovation.
There must be innovation in the approach, content, genre, form, method, means, system, mechanism of information dissemination, and public opinion direction. It is crucial to improve the synchronization and effectiveness of information, communication, and media institutions in the digital realm. Additionally, it is necessary to adapt to the trend of personalized and differentiated communication and expedite the establishment of a new model to steer public opinion in the context of the explosion of social media.
Solutions to construct a secure and healthy cyberspace, providing excellent support for information dissemination and public opinion orientation in the coming time
Firstly, strengthening the dissemination of the mainstream ideology.
The aim of conducting ideological work, dissemination and orientation of public opinion is to reinforce the principles of Marxism-Leninism, Ho Chi Minh's thought, and the leadership of the Communist Party of Viet Nam in the ideological field. This, in turn, strengthens the common ideological foundation that unites the entire Party and people towards national development and progress. Therefore, information dissemination and public opinion orientation should focus on highlighting the positive aspects of social life, encouraging the adoption and practice of the good values ​​of socialism, and being mindful of the timing, scope and impact of such activities in cyberspace. This will ensure a safe and healthy cyberspace environment that contributes to the advancement of society.
Secondly, enhancing the creation of accurate and healthy information content.
This can be achieved by reforming information production units such as newspapers, magazines, radio and television stations, media units, and social networks and promoting innovation in the concepts, content, forms, methods, and means of publicity in cyberspace. There is a need to actively combat false and hostile claims in cyberspace and not ignore or allow the spread of information and ideas that are contrary to the correct leadership of the Party and the interests of the people. It is necessary to firmly resist the spread of malicious rumours, defamatory information, and attempts to discredit individuals and leaders at all levels. Party and state agencies, as well as leaders at all levels, should be adept at utilizing the internet to comprehend public opinion and execute their tasks. The internet can serve as a new platform for party members and leaders to engage with the general public, gain an understanding of their needs and concerns, and resolve issues that still exist in people's lives. Moreover, it is crucial to transform cyberspace into a new channel to strengthen people's monitoring capabilities.
Thirdly, establishing and improving a comprehensive network management system.
In the virtual world, just like in the real world, the promotion of freedom should be balanced with adherence to the law. Therefore, it is essential to respect the rights of netizens to exchange their opinions and express their will while simultaneously creating a secure and healthy online environment in compliance with the law. This ensures that the legitimate rights and interests of netizens are safeguarded.
There is also a need to enhance network governance and establish a comprehensive network governance agency with the participation of stakeholders. This will create a new system of co-management and active interaction in compliance with legal requirements, ethical values, culture, and the rich traditions of Viet Nam. It is necessary to review, amend, supplement, and refine laws and regulations related to network information services, network security protection, and network social management. The integration of relevant agencies' functions in content management, industry management, and linkage and coordination mechanisms in cybercrime prevention and control is essential. It is also important to develop a suitable and adequate deterrent mechanism and regularly "clean" the internet to establish a safe and civilized network environment.
Fourthly, promoting the integration of communication and dissemination in depth.
It is necessary to integrate, optimize the process and restructure the information platform to realize effective integration of communication resources with different factors of production. Furthermore, the integration of information content, technology application, and management methods should be conducted to promote a qualitative shift, increase integration efficiency, and establish a new official media group with significant influence and competitiveness. These efforts will enable effective shaping of public opinion in cyberspace.
In addition, it is important to prioritize the development of mobile devices and establish a national mobile information and communication platform to support mainstream media in leading ideological orientation and shaping public opinion using mobile information. Furthermore, promoting the creation and innovation of crucial core technologies is vital in achieving breakthroughs in information and communication technology and the application of artificial intelligence across various areas such as information collection, production, distribution, reception, and response. It is also essential to coordinate and harmonize the relationship between traditional and new media, central and local media, and mass and specialized media. A multimedia communication system with abundant resources, a sensible structure, and effective coordination must be established.
To realize these solutions, leaders at all levels must be deeply aware that creating a healthy and safe cyberspace is a top priority. Immediate tasks include adhering to the Party's political line, shaping public opinion, and promoting positive societal values. It is also necessary to transform cyberspace into a platform for communication, guidance, and service to the masses, as well as utilize scientific theories, advanced culture, and traditional values to dominate the online sphere. Additionally, intelligent network management, informed internet use, and the creation of secure "green fences" and "security barriers" are crucial for a healthy and safe cyberspace that benefits the people and the country's overall development./.
----------------------
(1) Documents of the 13th National Party Congress, Truth National Political Publishing House, Hanoi, 2021, volume I, p. 272.
(2) See: "Digital 2022: Viet Nam", http://datareportal.com/reports/digital-2022-vietnam
(3) See Nguyen Van Thanh: "On National Sovereignty in Cyberspace - Requirements to ensure security and safety indicators in the current context", Proceedings of the National Scientific Conference on Securing National Sovereignty in Cyberspace, The Ministry of Public Security and Truth National Political Publishing House, Hanoi, 2021, Volume I, p. 50.
(4) See Quynh Vinh: "Detecting and handling 840 special cases related to cybercrime", Electronic People's Public Security Newspaper, June 6, 2022, https://cand.com.vn /Cong-nghe/phat-hien-xu-ly-840-chuyen-an-vu-viec-lien-quan-toi-pham-mang-i656116/
(5) See: Thanh Luan: "Viet Nam in top 3 most affected by cyber-attacks", Electronic Youth Newspaper, March 8, 2019, https://thanhnien.vn/viet-nam-nam-trong-top-3-quoc-gia-bi-tan-cong-mang-nhieu-nhat-post831891.html; "Microsoft report: Viet Nam - the worst-hit country by ransomware in the Asia-Pacific region", June 24, 2020, https://news.microsoft.com/en-vn/ 2020/06/24/bao-cao-cua-microsoft-viet-nam-la-quoc-gia-co-ty-le-nhiem-ma-doc-tong-tien-cao-nhat-chau-a-thai- Binh-duong-nam-2019/
(6) See Nguyen Trong Nghia: "The Party and State's view on protecting national sovereignty in cyberspace and ensuring cyber security", Proceedings of the National Scientific Conference on Ensuring National Sovereignty in Cyberspace, Proceedings of the National Scientific Conference on Securing National Sovereignty in Cyberspace, The Ministry of Public Security and Truth National Political Publishing House, Hanoi, 2021, Volume I, p. 10.
(7) Some countries introduced the concept of a "space zone."
This article was published in the Communist Review No. 1002 (November 2022)